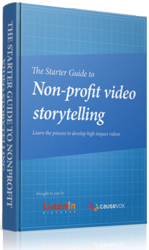 Video helps your nonprofit to bring in supporters, engage them in your work, and help you fundraise. It's the best way to catalyze sharing online.
New York, NY (PRWEB) December 15, 2011
CauseVox, an online fundraising platform, and ListenIn Pictures, a media production agency, produce free guide to help nonprofits with video storytelling.
The most successful nonprofits tell the most effective stories. Nonprofits have used video to propel international movements and raise millions of dollars. With the prevalence of social media and drop in video production costs, video has become a more vital medium for nonprofit storytelling.
Video helps a nonprofit's audience visualize why they exist, move them to feel genuine emotion, and motivate them to care, share, and take action. Some nonprofits are succeeding with video to create social change, but many are struggling with using it effectively.
The Starter Guide to Nonprofit Video Storytelling provides a framework for thinking about how nonprofits can create and use videos to its fullest potential. It provides a vibrant and comprehensive 53 page walk through to help any nonprofit with the strategy, planning, and process behind video storytelling.
After reading the free e-book, nonprofits will be able to understand the elements of effective nonprofit videos and how they can create a video storytelling strategy. Highlights include:

Developing a concept and plot for your video to create the most impact
Best practices of integrating video into online advocacy and fundraising campaigns
Determining how to create videos yourself or hire a professional
To learn more about The Starter Guide to Nonprofit Video Storytelling or to download it for free, visit http://www.startstorytelling.com.
About the Authors
ListenIn Pictures is a media production company specializing in not-for-profit visual storytelling. They craft cinematic stories that are personal, intimate, and honest to connect people, build movements and catalyze change. ListenIn has worked with organizations such as Adoptions Together, Achievement First, BRAC, KIPP Charter Schools, Planned Parenthood, and Human Rights Campaign. More information can be found at http://www.listeninpictures.com.
CauseVox is an online fundraising software for nonprofits. Their platform help nonprofits easily design their own full-featured fundraising sites for campaigns as well as for personal and team fundraising. CauseVox believes that every nonprofit's story is unique and unlike any others; their fundraising sites should be that same way too. More info can be found at http://www.causevox.com.
###