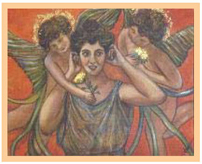 Each and every volunteer is a blessing. With our annual awards we single out individuals who work behind the scenes to help others and make a difference, said MAF Founder and President Herb Knoll
Clarence, NY (PRWEB) May 30, 2012
The Michelle's Angels Foundation Inc. (MAF) today announced Susan Almon-Pesch of Market 4 Profit is the organization's 2011 Volunteer of the Year. Almon-Pesch of Charleston, South Carolina has been actively involved in Michelle's Angels since 2009. She currently serves as the nonprofit's publicist. Most recently she was awarded the 2010 Michelle's Angels Foundation President's Award. In addition to the recognition as Volunteer of the Year, as voted for by MAF volunteers, Almon-Pesch received a Limited Edition Emmett Kelly Jr. clown miniature from the personal collection of the foundation's namesake Michelle R. Knoll.
Michelle's Angels Foundation's mission is to use networking via the organization's website to provide love, hope and assistance to those who suffer quietly as they face any one of life's many challenges. Emotional support is given through volunteer touch-base emails, texts or phone calls. In addition, The Angels Artists (a team of volunteer singer-songwriters) provide beauty and compassion by donating their music free of charge on the MAF website. Volunteers and musicians give -- because as the organization's slogan states, "People need to know someone cares."
MAF President, Herb Knoll, currently residing in Central Florida, first met Almon-Pesch in 1985 when she headed up her ad agency, Almon Associates Communications, Inc. in Buffalo, New York. As the years passed, each moved on to new career positions in different states. Knoll knew the foundation needed to recruit a volunteer with public relations' experience. With a time-sensitive deadline in mind, Knoll called Almon-Pesch to request a press release for the organization's first "Gentlemen Hug Your Brides Day" on March 4, 2009. Since that call, Almon-Pesch has served as the "voice of MAF" and contributed more than 20 press releases. Most recently MAF's mission was shared in an article penned by Senior Editor, Bob Frick titled "Use your skills to help others" in Kiplinger's Guide to Retirement Planning 2012.
In addition to the Volunteer of the Year announcement, Knoll personally awarded the 2011 Michelle's Angels Foundation President's Award to Todd M. Zgoda, CPA and Manager at Bruce M. Zgoda, CPA in Clarence, New York. Since 2009 Zgoda has served as the organization's CPA. He handles all of the nonprofit's financial affairs and accounting responsibilities -- including bookkeeping, accounts receivables / payables, banking, financial statements, and tax returns. His is not glamorous work, and he rarely hears applause. But, Zgoda's contribution to the foundation's business is vital.
"Without the help of our volunteers, the Michelle's Angels Foundation would not be able to fulfill its mission. Each and every volunteer is a blessing. With our annual awards we single out individuals who work behind the scenes to help others and make a difference. Susan by making sure our messaging reaches the world, and Todd by ensuring that MAF is financially healthy and responsible," said Knoll. "The competition for the Volunteer of the Year was intense. It is fitting to pay tribute to three other finalists: MAF Vice President, Randy Mitchelson of Estero, Florida; MAF Legal Counsel and Board Member, Deirdre M. Dineen of E. Greenbush, New York and MAF IT Director, Mike Bailey of Delanson, New York."
For more information on how to volunteer or to have a loved one's named added to the Michelle's Angels Foundation's prayer list, visit http://www.michellesangels.com.
About Michelle's Angels Foundation, Inc. (MAF) Clarence, New York
Michelle's Angels Foundation, Inc.'s mission is to provide love, hope and assistance to those facing any one of a wide-range of illnesses or life's challenges. The foundation's website serves as the principle vehicle employed by the foundation to aid others and their loved ones. MAF is a New York State not-for-profit corporation, and is recognized as tax exempt under Section 501(c)(3) of the Internal Revenue Code. MAF, Inc. is registered with the Office of the New York State Attorney General (NYS Reg. No. 41-55-45), the Tennessee Department of State (CO 13756) in the State of Florida (CH32995) and is currently exempt from registration in the state of West Virginia. All donations to MAF, Inc. are tax deductible. For more information visit http://www.michellesangels.com or email info(at)michellesangels.com.