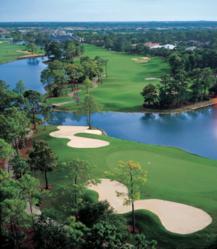 Grey Oaks has always taken the position that it's not where you live, but where you belong that counts.
Naples, FL (PRWEB) February 13, 2013
This year marks the 20th anniversary of Grey Oaks Country Club and membership sales at the club are strong. The club has sold 25 golf memberships and 10 sport memberships since Oct. 1.
Membership sales are being fueled by new residential product available in the community's Miramonte, Torino, Traditions, and the Estuary neighborhoods and by an innovative addition to the Club's nonresident membership program. Along with its well-established nonresident equity membership offering, Grey Oaks is now making nonrefundable, full golf memberships available to nonresidents for $95,000.
The Grey Oaks amenity package includes three golf courses near the beach. As a result, Grey Oaks Country Club has one of the strongest nonresident membership programs in the country. A group of 300 nonresident members accounts for about a third of the total Grey Oaks membership.
There are several reasons for Grey Oaks' strong appeal. First and foremost, the club is financially sound. Grey Oaks' world-class amenities, including the three distinctly different golf courses, are member-owned and debt free. An innovative transition plan was implemented to uphold the Collier family legacy inspired by Judy Sproul while transferring governance to club members. Secondly, the club management team is constantly seeking new and better ways to serve members. All members are asked to participate in an annual survey. The results of the survey have consistently shown excellent performance and are used as a basis for refining the club's service quality. Additionally, Grey Oaks is equally accessible to men and women golfers. Female golfers accounted for 48 percent of the rounds played at Grey Oaks last year, including the club's Annual Ladies' Invitational which attracts more than 270 women in a multiple-round event.
"We are excited to see new members embracing our $95,000 nonresident membership offering," said Grey Oaks Membership Director Kitsi Estrem. "Grey Oaks has always taken the position that it's not where you live, but where you belong that counts. For 20 years, the club has created and maintained an ambience that provides both resident and nonresident members a sense of community. Members want to belong to a club that is financially strong and that is constantly evaluating and enhancing the quality of its service. Further, the club continues to enhance its facilities and is at the forefront in its use of technology. A $2.7 million renovation of the golf pro shop, new men's and women's locker rooms and a redesign of the club's Grille Room were recently completed. It is very easy to see why Grey Oaks is so appealing."
Grey Oaks' reputation of excellence continues to be acknowledged on a national basis. Grey Oaks Country Club has been named one of the top 35 residential country club communities in the United States by the Platinum Club of America and recognized as one of America's top 100 golf communities by Travel & Leisure Golf for three consecutive years.
Grey Oaks offers 54 holes of golf on three courses and a full schedule of member tournaments. One of the many advantages of multiple courses is the ability to host club tournaments while providing open play opportunities. Additional amenities include multiple dining locations, fitness facilities, two bocce ball court locations, a tennis program and two clubhouses.
Grey Oaks is off Airport-Pulling Road, north of Golden Gate Parkway. Grey Oaks Realty is the exclusive sales and marketing representative of Grey Oaks Country Club.