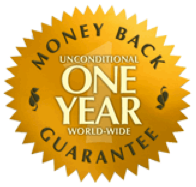 Vancouver, BC (PRWEB) August 16, 2012
An announcement involving one of the world's premiere professional coach directories for business and life coaches was made Tuesday.
Noomii.com is now offering a one-year money back guarantee for coaches who use their client referral service.
"For most coaches, a one year subscription to Noomii pays for itself with just one paying client," says Noomii CEO Kurt Shuster. "Although most coaches get many more clients, we are so confident that coaches will get at least one client if they stay with us for one year, that we are guaranteeing their money back."
There has been a slew of positive feedback from current Noomii coaches that mention the benefits they've experienced.
"I have used numerous strategies to market my business – from chambers of commerce to BNI, to LinkedIn to pens and calendars with my name on it to my own website to Psychology Today. None – none can compare to the return on my investment that I have received with Noomii," said Scott Graham a coach based out of Boston. "Noomii offers coaches leads that are pre-qualified: the people who post coaching inquiries are actively in the market for a coach. Currently 75% of my client base is comprised on Noomii referrals. It is the best money I have ever spent on my business."
There has also been an emphasis on the variety of client leads Noomii is able to provide to their coaches.
"Over the years I have acquired a significant number of clients from Noomii, from executives to individuals who want more out of their lives," said Dan Weigold, an ADHD and Leadership coach based out of Colorado Springs, CO. "People looking for a change come to Noomii to find quality coaches that can help them move forward in their lives."
No other coaching service has made a guarantee like Noomii's. And in order to participate in the money back guarantee program, coaches must speak with a Noomii representative to confirm their information, conduct a recorded interview that is placed on their profile, and meet Noomii's minimum profile requirements.
"We're making this guarantee to show our coaches how serious we are about providing them with clients," said Shuster. "If the service doesn't pay for itself, our loyal customers should get their money back. It's the right thing for us to do."
ABOUT NOOMII.COM:
Founded in 2007, Noomii is a free online service that helps you find your ideal life coach, career coach, or business coach. Noomii's large and comprehensive directory of professional coaches includes thousands of independent coaches across the United States, Canada, and over 50 more countries. Noomii's personalized matching system quickly and effectively matches clients with their ideal coach based on their unique goals, personality, and background.
FOR FURTHER INFORMATION PLEASE CONTACT:
Ayla Wallbank
Noomii.com, Customer Relations
1-800-278-1057
support(at)noomii(dot)com