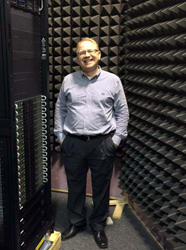 We have the expertise and motivation to consistently make our software partners look good and boost their sales.
MINNEAPOLIS (PRWEB) March 15, 2017
Nor-Tech (Northern Computer Technologies), the leading provider of high-performance cluster computer solutions, just announced an active campaign to develop additional software partnerships with companies such as Siemens and MathWorks, to build mutual growth.
Nor-Tech President and CEO David Bollig said, "The relationships we have with our current partners have been a key source of success for both our partners and Nor-Tech. Among the primary reasons are our integration expertise and our demo cluster."
Bollig is referring to Nor-Tech's innovative demo cluster, integrated with restricted-license partner software that allows clients and prospects to trial partner HPC applications and run their own jobs free-of-charge before they buy.
"Our demo cluster is the most powerful sales tool in the industry," Bollig said. "It gives clients the opportunity to witness the competitive advantage of their jobs, running on a Nor-Tech cluster integrated and tested with our partners' latest HPC applications."
Nor-Tech has a reputation as one of the most meticulous software integrators in the industry. The company's goal is for every client to begin production work within hours of cluster delivery. In order for this to happen, Nor-Tech works hard to ensure that all software is properly integrated when it leaves its manufacturing facility
Clients have the opportunity to take advantage of training and run jobs on the cluster prior to delivery. This protocol gives clients the confidence that everything, including the software, is working seamlessly. Nor-Tech also creates detailed documentation and a detailed start-up guide that is customized down to the graphics.
"Software providers that work with our competitors are often frustrated because bigger technology builders, in particular, don't take the time or have the ability to handle integration properly," Bollig said. "We have the expertise and motivation to consistently make our software partners look good and boost their sales."
All software candidates for Nor-Tech partnerships must have software that runs on a supercomputer (is MPI aware). Current partnerships include: Dassault Systèmes Simulia, ANSYS, Altair, CD-Adapco, and Converge among others.
For more information on Nor-Tech's Partner Program, call 952-808-1000/toll free: 877-808-1010. For information on the demo cluster and to fill out a contact form visit: http://www.nor-tech.com/solutions/hpc/demo-cluster/.
2016 HPCwire award finalist, Nor-Tech is renowned throughout the scientific, academic, and business communities for easy to deploy turnkey clusters and expert, no wait time support. All of Nor-Tech's technology is made by Nor-Tech in Minnesota and supported by Nor-Tech around the world. In addition to HPC clusters, Nor-Tech's custom technology includes workstations, desktops, and servers for a range of applications including CAE, CFD, and FEA. Nor-Tech engineers average 20+ years of experience and are responsible for significant high performance computing innovations. The company has been in business since 1998 and is headquartered in Burnsville, Minn. just outside of Minneapolis. Full release at: http://www.nor-tech.com/category/news/