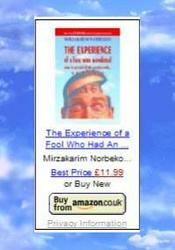 a disabled person of the highest incapacity, forever 'bonded' to equipment for artificial blood purification? Anyway doomed!
London, UK (PRWEB) May 27, 2009
Dr. Mirzakarim Sanakulovich Norbekov is the creator of a unique healing methodology which has allowed millions of people to regain the joy and vigor of returning again to living a healthy and fulfilling life.
As a 20-year-old, Norbekov was a dying man. As "a disabled person of the highest incapacity, forever 'bonded' to equipment for artificial blood purification? Anyway doomed!" - was how Dr. Norbekov describes himself. Yet using esoteric knowledge learned from his first "Mentor" Seid Mohammed Hassan - a Sufi from Uzbekistan, and contrary to the then accepted medical wisdom, he managed to turn his life around and make a full recovery.
He has set up his own system of highly acclaimed educational and practical healing tools, which allow people to take personal control in regaining their good health and finding fulfillment of their life goals. Dr. Norbekov's methods have received huge acclaim and recognition, initially in Russia and now throughout Europe, especially for its benefits in overcoming chronic conditions and illnesses.
His methods have also been very successfully applied in developing the "Success Mindset" and for powerful goal setting, which are absolutely vital attributes in achieving progression through his dynamic personal development techniques. Indeed, Dr. Norbekov's methods are positively vital for aspiring entrepreneurs, several of whom who have successfully applied his quite amazing techniques towards achieving their goals and dreams.
Dr. Norbekov's books have had over 15 million readers, mostly from behind the former "Iron Curtain" - as Winston Churchill had once described the Soviet Union. Only now are his methods being gradually released to the "West". The Soviets were well known for their research into some of the quite arcane areas of Parapsychology such as Kirlian photography and energy fields, telepathy, healing, telekinesis and suchlike.
It was generally accepted that some of these areas of esoteric research were funded by their Intelligence services to give themselves an edge in this "cat-and-mouse" arena. Therefore many highly useful results from this research were "kept under wraps" only now slowly emerging to those in the West, years later.
Some of the many valuable aspects and benefits of using Dr. Norbekov's powerful system are:
It places an emphasis on the body's natural ability of self-recovery, to self-heal without unnecessary medication or external intervention. It can help one to efficiently eliminate the underlying causes of illnesses. It helps in showing how to activate one's body's innate cleansing mechanisms. Aiding the recovery of affected organs.
Using powerful techniques for improving and rectifying problems with eyesight and for example: Restoring spinal flexibility.
Using ancient energy techniques for stimulating the recovery of the body. Strengthening the body's immune system. Enhancing biological youth of the body. Reducing and removing scars and blemishes from skin tissue. Promoting younger looking skin. Reinvigorating sexual potency thus helping one to establish harmony in intimate relationships.
Establishing the bases for personal empowerment: managing personal energy and developing the traits of a "Winner's mentality". Helping to realign one's goals, towards achievement of positive outcomes and success.
Mirzakarim Norbekov has set out his system in an easy colloquial manner in his amazing and wonderful book "The Experience of a Fool Who Had An Epiphany About How To Get Rid of His Glasses". This book is a part of Norbekov's course about how to manage our own bodies and to use the power of our own personalities to improve health and even to get rid of glasses. It is now available from Amazon.co.uk online or in a downloadable PDF eBook.
For more information or about how you can get the physical book please visit: http://norbekov.com-org.net/prw.html or readers can get the instant Downloadable PDF version at http://norbekov.com-ad.net/prw.html.
###