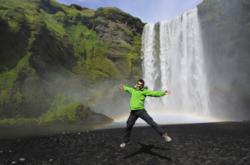 Reykjavik, Iceland (PRWEB) April 28, 2012
Mention the word "Iceland" and most people think of quirky pop stars, snowy landscapes or volcanoes with difficult names. But isn't there more that a savvy traveler should know about this increasingly popular tourist destination?
Icelandic travel agency Nordic Visitor certainly thinks so, which is why they recently launched their own Iceland Travel Guide on their website, not just to help customers prepare for upcoming vacations but also to show would-be visitors the incredible possibilities that Iceland has to offer.
Travelers can now find detailed descriptions about each of the country's unique regions as well as interesting attractions as selected by the company's own local travel experts. The travel guide also calms anxieties of first-time guests with practical information about Iceland like how to get there and—perhaps most importantly—what to expect with the weather and how to dress accordingly.
As for those interested in a road trip on the famous "Ring Road", there are also plenty of handy tips about driving in Iceland along with information about rental cars and other extras included in a Nordic Visitor self-drive package, such as detailed road maps, free GPS, unlimited mileage, emergency assistance and more. Customers also receive a "Highlights of Iceland" booklet, a convenient hard copy version of the online travel guide.
Iceland has emerged as a travel hotspot in recent years, thanks in large part to its weakened currency, the Króna (ISK), and from earning top marks from major travel publications, including Lonely Planet, Fodor's and National Geographic Traveler. The country is often cited as an ideal destination for travelers who want a good value and an off-the-beaten path experience.
Nordic Visitor offers a wide range of vacation packages in Iceland, with varying routes, durations and services. Accommodation is always included, and any itinerary can be tailored to customers' wishes, such as extra nights or activities. Packages in Iceland can also be combined with tours in Scandinavia, Greenland, Svalbard or the Faroe Islands.
For more information about vacation packages in Iceland or other Nordic destinations, please visit http://www.nordicvisitor.com.
About Nordic Visitor: With offices in Iceland and Sweden, Nordic Visitor is a fully-licensed travel agency and DMC that delivers unforgettable travel experiences in the Nordic countries. Staffed exclusively by local travel experts, Nordic Visitor specializes in tailor-made itineraries that cater to customers' needs and interests. Vacation packages include self-drive holidays, city breaks, luxury getaways, honeymoons, adventure tours, fjord cruises, railway journeys and much more.