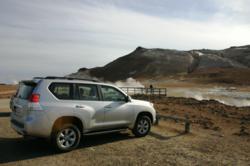 customers have told us how reassuring it is to know exactly where they are and how much further it is to their hotel or to the next town or gas station
Reykjavik, Iceland (PRWEB) July 31, 2011
It's easy to lose oneself in the beauty of Iceland's landscapes, but thanks to Nordic Visitor, travelers won't have to worry about getting lost on Iceland's roads.
Nordic Visitor, a fully licensed travel agency in Iceland, is unique among its competitors for offering GPS navigation as a standard feature—free of charge—in all of its self-drive vacation packages in Iceland. This is in addition to the complimentary Iceland Road Atlas and detailed map that customers receive on arrival.
As anyone driving in a foreign country for the first time can attest, a GPS navigation system is invaluable for the peace of mind the assistance provides. From finding the way out of downtown Reykjavik to planning ahead for fuel stops in the countryside, the convenience afforded by GPS means less time wasted and more precious time for enjoying Iceland's fascinating attractions.
"Although the Ring Road is not very difficult to follow," explains CEO Ásberg Jónsson, referring to the major highway that circles the island, "much of the drive is characterized by long stretches through rural areas, and many of our customers have told us how reassuring it is to know exactly where they are and how much further it is to their hotel or to the next town or gas station."
For extra comfort and security on the road, Nordic Visitor also gives customers the option to add a second authorized driver at no cost, allowing travelers to share the driving duties. What's more, the company provides a temporary cell phone pre-loaded with twenty minutes of talk time for use in case of emergencies.
With a wide selection of rental vehicles to choose from, customers also receive a personalized itinerary, hard copies of all travel vouchers, information about driving in Iceland, brochures of optional activities and Nordic Visitor's own "Highlights of Iceland" booklet, packed with helpful travel tips and details about must-see landmarks around the country.
Self-drive tours in Iceland have surged in popularity in recent years, thanks in large part to the depreciation of Iceland's currency, the Króna (ISK). Plus, the freedom of a rental car lets travelers explore the country with greater flexibility, allowing for a more personal and authentic travel experience.
Nordic Visitor offers a large variety of self-drive vacation packages in Iceland, with varying routes and durations. Accommodation is included in all packages, and itineraries can be tailored to customers' specific requirements.
For more information about self-drive tours or other vacation packages in Iceland, please visit http://www.nordicvisitor.com.
About Nordic Visitor: With offices in Iceland, Norway and Sweden, Nordic Visitor is a fully-licensed travel agency and DMC that delivers unforgettable travel experiences in the Nordic countries. Staffed by local travel experts, Nordic Visitor specializes in tailor-made itineraries that cater to customers' needs and interests. Vacation packages include self-drive holidays, city breaks, guided group tours, luxury getaways, honeymoons, adventure tours, fjord cruises and much more.
###