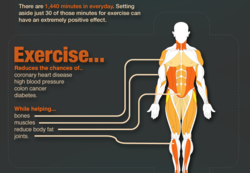 ...make fitness and health a family affair.
Logan, UT (PRWEB) June 17, 2011
With obesity in America steadily on the rise, NordicTrack has published an infographic to visually show this shocking trend and to give tips on how moderate exercise can help.
NordicTrack, a giant in the fitness industry, is one of many organizations working hard to bring these startling statistics to the attention of the American public. In their infographic "Improving Fitness in America" each state has been broken down into unique percentages of those considered to be obese. A staggering 17 percent of children in America are considered to be obese. In the same infographic, it is calculated that the average American consumes 597 cans of soda per year. This equals out to about 32 pounds of pure sugar going into your body on a yearly basis.
By publishing these numbers, it is their hope that people will begin to pay attention to what they are putting in their bodies and how regular exercise can help. Even moderate amounts of exercise can make a big difference when it comes to your health. Out of the 1,440 minutes in a day, it is not difficult to find just thirty for exercising, and being physically active.
In addition to the stress relief benefits, Americans can decrease their risk for developing coronary heart disease, high blood pressure, colon cancer, and diabetes with moderate daily exercise. A person's bones, muscles, and joints will naturally become stronger, and body fat percentage will reduce.
NordicTrack and Jillian Michaels have been promoting health and fitness together since 2008 when the two helped to introduce the NordicTrack Incline Trainer. On a recent Facebook post, Michaels showed her support for an active lifestyle. "If you are trying to help your chubby kid or teen get fit do NOT make an issue of their weight," she stated. "Instead, make fitness & health a family affair."
With the help of this infographic, more Americans can become aware of the dangerous statistic they are becoming, hopefully motivating them to take the proper steps toward physical and mental wellness.
NordicTrack has been a leader in the exercise equipment industry for over 25 years since the release of their original NordicTrack model. Over the years, NordicTrack has expanded their equipment into other areas, including its touted line of treadmills, elliptical machines, and exercise bikes. To view the referenced infographic, visit blog.NordicTrack.com.
# # #