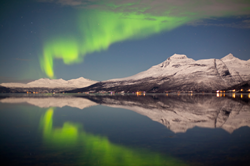 Oslo, Norway (PRWEB) November 01, 2011
For those who want a front row seat to Mother Nature's own spectacular light show, travel agency Nordic Visitor offers VIP access with its exciting range of northern lights vacation packages in Norway.
With its proximity to the Arctic Circle and long winter nights, Norway is considered one of the best destinations in the world to view the northern lights. Over the ages, these celestial wonders have held a special place in Nordic folklore, and their mysterious beauty continues to amaze all who witness them.
The northern lights are a result of charged particles from solar flares colliding with the earth's atmosphere at the magnetic North Pole. Also called aurora borealis, this natural phenomenon is visible mainly between October and March. What's more, meteorologists at NASA predict this winter's auroras to be the most intense in 50 years due to increased solar activity.
Along with the chance to do some aurora spotting at night, Nordic Visitor's vacation packages also give travelers the opportunity to enjoy Norway's pristine nature, traditional Nordic cuisine, historical attractions and fun activities for all ages, like dog-sledding, snowmobiling and king crab fishing.
Other major highlights in Norway tours include overnights at snow hotels, train travel on some of the world's steepest tracks and voyages along the fjord-studded coast. For a more personalized experience or to celebrate a special occasion--like a honeymoon, Nordic Visitor can also tailor any itinerary according to customers' wishes.
Through November 30th, Nordic Visitor is offering a 5% discount on a selection of its most popular northern lights packages in Norway, including the best-selling Aurora Safari, 7 days of adventures with a mountainous railway journey, fjord cruise, guided dog sled excursion and visits to Oslo, Bergen, Trondheim and Tromsø. This special offer is valid on arrivals in February and March 2012.
About Nordic Visitor: With offices in Norway, Sweden and Iceland, Nordic Visitor is a fully-licensed travel agency and DMC that delivers unforgettable travel experiences in the Nordic countries. Staffed by local travel experts, Nordic Visitor specializes in tailor-made itineraries that cater to customers' specific needs and interests. Vacation packages include self-drive holidays, city breaks, northern lights tours, honeymoons, luxury vacations, fjord cruises and more. http://www.nordicvisitor.com
###