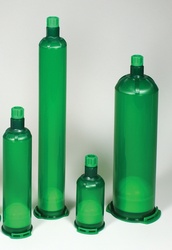 EAST PROVIDENCE, R.I. (PRWEB) September 23, 2008
International regulations and environmental concerns are causing many manufacturers to switch from traditional lead solder to lead-free solder in their production processes. Suppliers of lead-free solder pastes often package them in green cartridges to distinguish them from their lead counterparts.
EFD's new cartridges are precision molded from clear green polypropylene, and provide several advantages over the opaque green cartridges that until now were the only choice available.
Reduces costly downtime on automated production lines by making it easy to monitor the amount of solder remaining in the cartridge and change it before it runs out. Proprietary ZeroDraftTM design ensures that the internal diameter of the cartridge is consistent from top to bottom. A matching piston wipes the cartridge wall clean as solder is dispensed, eliminating waste. New design and robust construction minimize the risk of cracking and splitting often encountered with other cartridges. The new green cartridges are available in 2.5 oz, 6 oz, 12 oz, 20 oz, and 32oz. capacities to meet a wide range of applications.
EFD, Inc. is a wholly owned subsidiary of Nordson Corporation. Since 1963 EFD has designed and manufactured precision dispensing devices for applying controlled amounts of the adhesives, sealants, lubricants and other assembly fluids used in almost every manufacturing process. EFD's products are available through their worldwide network operating in over 30 countries.
Nordson Corporation is one of the world's leading producers of precision dispensing equipment that applies adhesives, sealants and coatings to a broad range of consumer and industrial products during manufacturing operations. The company also manufactures equipment used in the testing and inspection of electronic components as well as technology-based systems for curing and surface treatment processes. Headquartered in Westlake, Ohio, Nordson has more than 4,100 employees worldwide, and direct operations and sales support offices in 34 countries.