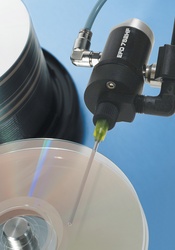 EAST PROVIDENCE, R.I. (PRWEB) December 19, 2008
The new valve was specifically designed to help media manufacturers increase production speeds through faster application of thick fluids, and prevent the formation of micro bubbles that could lead to imperfections and rejects.
Features of the new 752HF High Flow Valve include:
High-flow capability for faster application of thicker UV-cure coatings Compact and lightweight design for easy mounting and reduced equipment wear Low-maintenance design that reduces downtime Positive shutoff prevents drips that could cause rejects EFD's products are available through their worldwide network operating in over 30 countries. For more information, contact EFD at 800-556-3484, +1-401-431-7000 or visit http://www.efd-inc.com.
EFD, Inc. is a wholly owned subsidiary of Nordson Corporation. Since 1963 EFD has designed and manufactured precision dispensing devices for applying controlled amounts of the adhesives, sealants, lubricants and other assembly fluids used in almost every manufacturing process.
Nordson Corporation is one of the world's leading producers of precision dispensing equipment that applies adhesives, sealants and coatings to a broad range of consumer and industrial products during manufacturing operations. The company also manufactures equipment used in the testing and inspection of electronic components as well as technology-based systems for curing and surface treatment processes. Headquartered in Westlake, Ohio, Nordson has more than 4,100 employees worldwide, and direct operations and sales support offices in 34 countries.
MULTIMEDIA GALLERY http://www.businesswire.com/cgi-bin/mmg.cgi?eid=5857941