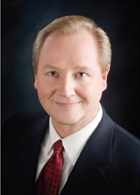 ...for presbyopic patients looking to reduce or eliminate their need for reading glasses.
BOISE, ID (PRWEB) December 01, 2016
Hollingshead Eye Center has adopted one of the latest advances in presbyopic eye care technology, the Raindrop lens. In the same way an image appears magnified when viewed through a droplet of water, the Raindrop lens works to improve near and intermediate vision.
"The eye's lens stiffens with age, making it is less able to focus when you view something up close," says eye surgeon Dr. Mark Hollingshead of Hollingshead Eye Center. "This common condition is called presbyopia and is the reason so many of our patients over the age of 40 come to us looking for a way to regain their near vision without the need for reading glasses. Raindrop is a small transparent disc that has similar properties and water content as the cornea. It is placed in the cornea in a quick 5- to 10-minute, LASIK-like procedure."
Raindrop is implanted in one eye only. The Raindrop eye provides an improvement in near vision, while the unchanged eye is used to focus on distant objects. With both eyes working together to create one image, patients enjoy a significant improvement in near vision while retaining most of the distance vision.
In a recent study, researchers found that 98% of Raindrop participants were able to read a newspaper after their procedure, 88% could read fine print, and 76% could read an email onscreen.
According to eye surgeon Dr. Ryan Barrett, also of Hollingshead Eye Center, it was the many positive reviews from other ophthalmologists about this technology that convinced them it was time to incorporate Raindrop into their list of advanced services. "Our investigation has shown us that patient satisfaction among Raindrop recipients has been extremely high, and we're not surprised. The constant hassle of having to take readers on and off can really get in the way of your daily activities. We're looking forward to offering yet another quick, long-term solution for presbyopic patients looking to reduce or eliminate their need for reading glasses," says Dr. Barrett.
To learn more about the Raindrop procedure at Hollingshead Eye Center, call (208) 336-8700.
HOLLINGSHEAD EYE CENTER
Eye surgeon Dr. Mark Hollingshead has been part of the Boise community in Idaho's Treasure Valley for more than 20 years. With the addition of highly trained eye surgeon Dr. Ryan Barrett in 2016, Dr. Hollingshead and his team offer patients an even wider range of state-of-the-art medical and surgical vision services than ever before, from LASIK laser vision correction to state-of-the-art cataract surgery.