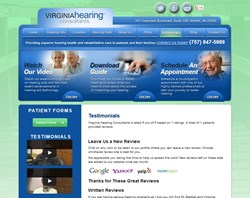 Dr. Bartlett found a solution for me with state of the art technology. I appreciate her effort and understanding of my needs.
Norfolk, VA (PRWEB) April 14, 2013
A brand new section has been added to the website of Virginia Hearing Consultants at http://www.virginiahearing.com/reviews.php to exhibit the hearing loss and hearing aid testimonials of the people of Norfolk VA. This new web page, will exhibit the stories of past and current patients coping with sensorineural hearing loss, conductive hearing loss, hyperacusis, tinnitus or other hearing difficulties. Virginia Hearing Consultants is thrilled about the brand new section because it should help visitors see themselves in the testimonies of others and help remove the stigma of hearing loss and hearing aids. It is important for all the Americans suffering with hearing loss to realize that they are not alone and to learn about available solutions. Virginia Hearing Consultants hopes that web visitors will find shared experiences and a sense of community on the new reviews section.
Visitors reading the stories on the website are reminded to not try to diagnose themselves as there are many different reasons for hearing loss. Individuals that suspect they have some form of hearing loss or who are experiencing pain or ringing in the ears should be evaluated by a qualified audiologist. A hearing test and physical exam of the ears performed by a specialist are the first steps in understanding the cause of any hearing loss. The stories and solutions featured on the new testimonials pages may not apply in all situations.
About Virginia Hearing Consultants
Virginia Hearing Consultants has a long reputation of providing the best hearing aid buying experience – guiding patients through the initial hearing exam, the choice of hearing aid styles, the custom fitting and programming of the device, and the ultimate care and maintenance. Each patient receives truly personalized service to make sure that the hearing aid they select best fits their specific hearing loss type, lifestyle, performance expectations and budget.
About Dr. Theresa Bartlett Au.D.
Dr. Theresa Bartlett Au.D. is the primary audiologist at Virginia Hearing Consultants. She founded a private audiology practice in Norfolk in 2003 which later merged with another to form Virginia Hearing Consultants in 2005. Dr. Bartlett earned her Bachelor's Degree in Speech Pathology from James Madison University, her Master's Degree in Speech and Hearing Sciences from the University of Southern Mississippi, and her Doctorate in Audiology from the Arizona School of Health Sciences. Dr. Bartlett is certified by the American Speech and Hearing Association and is a member of the American Academy of Audiology and the Tidewater Audiology Society. She is also a member of the Academy of Doctors of Audiology.
Contact:
Dr. Theresa Bartlett, Au. D.
http://virginiahearing.com
Virginia Hearing Consultants
241 Corporate Blvd., Suite 150
Norfolk, VA 23502
(757) 847-5989