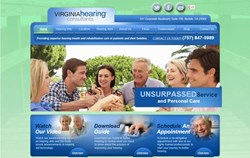 Your satisfaction with the hearing solution we recommend for you is of utmost importance to us.
Norfolk, VA (PRWEB) October 10, 2012
Virginia Hearing Consultants, the leading provider of audiology services and hearing aids in Norfolk VA, has announced the launch of its new website. The website boasts large print, lots of new content (including video), as well as easier navigation features that allow current and future patients to quickly find the information they are looking for. The new featured video on recent advances in hearing aid technology runs 21 minutes and has already won several awards. After watching the video, website visitors can download the free Guide to Better Hearing and schedule an appointment right from the home page. The website redesign demonstrates Virginia Hearing Consultants continued efforts to help its patients throughout the process of purchasing a hearing aid from the initial research to the final fitting.
Virginia Hearing Consultants has a long reputation of providing the best hearing aid buying experience – guiding patient through the initial hearing exam, the choice of hearing aid styles, the custom fitting and programming of the device, and the ultimate care and maintenance. Each patient receives truly personalized service to make sure that the hearing aid they select best fits their specific hearing loss type, lifestyle, performance expectations and budget.
Dr. Theresa Bartlett Au.D. is the primary audiologist at Virginia Hearing Consultants. She founded a private audiology practice in Norfolk in 2003 which later merged with another to form Virginia Hearing Consultants in 2005. Dr. Bartlett earned her Bachelor's Degree in Speech Pathology from James Madison University, her Master's Degree in Speech and Hearing Sciences from the University of Southern Mississippi, and her Doctorate in Audiology from the Arizona School of Health Sciences. Dr. Bartlett is certified by the American Speech and Hearing Association and is a member of the American Academy of Audiology and the Tidewater Audiology Society. She is also a member of the Academy of Doctors of Audiology.
Dr. Bartlett and the entire team at Virginia Hearing Consultants are very excited about the new website and the how it will help more people in and around Norfolk receive the hearing loss education and care that they need. To see the new design, and to learn more about Virginia Hearing Consultants, visit virginiahearing.com.
Contact:
Virginia Hearing Consultants
Dr. Theresa Bartlett, Au. D.
241 Corporate Blvd., Suite 150
Norfolk, VA 23502
(757) 847-5989
http://virginiahearing.com