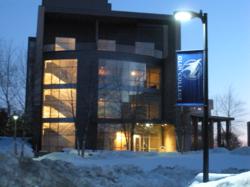 This is the kind of energy efficiency project I drool over! Qnuru's LED retrofit solutions are flexible, well made, and durable—they are all they need to be, but no more.
Albuquerque,NM (Vocus/PRWEB) March 03, 2011
The Noribachi Group, the leading provider of smart energy applications, today announced that Olin College of Engineering and New Mexico Highlands University have joined the community of education institutions deploying Qnuru's LED lighting technology. Using Qnuru's Vector line of LED bulbs, Olin College retrofitted street and parking lot lights throughout its 75-acre campus, while Highlands University retrofitted high bay luminaires in its 74,000 sq. ft. John A. Wilson Physical Education Complex.
Olin College and Highlands University reduced their lighting energy consumptions by 81% and 76%, respectively, increased illumination levels, and advanced their campus environmental sustainability goals. They join other educational institutions who have adopted Qnuru's LED lighting, including the Bosque School, an Albuquerque-based private high school, and the Santa Fe NM Public School district, which upgraded five of its K-12 education facilities with Qnuru's hybrid solar/grid-powered parking lot luminaires.
Ranked as one of the top 10 undergraduate schools for engineering in the U.S., Olin College upgraded 76 street and parking lot lights throughout its suburban Boston campus. Former 400 watt metal halide lights were retrofitted with 85 watt Qnuru La Luz bulbs. The LED retrofit project enabled Olin to reduce the energy consumption of its 76 fixtures by 81%, eliminate the need for expensive bulb and ballast maintenance, and increase its security lighting levels. Olin achieved a 26-month ROI and qualified for a 40% energy conservation rebate on its capital investment from NStar, the largest electrical and gas utility in Massachusetts.
"This is the kind of energy efficiency project I drool over," said Stephen Durfee, Certified Energy Manager for Olin College. "Qnuru's retrofit solutions are flexible, well made, and durable—they are all they need to be, but no more. Our administrators love the cost savings and increased security, our students are proud to be seen as environmental leaders among their university peers, and I appreciated having finally found a high quality LED retrofit solution after a disappointing two-year hunt."
Founded 117 years ago, New Mexico Highlands has served as a leading academic, cultural and economic institution for the communities of Northern New Mexico. The university recently retrofitted its second largest consumer of energy, the 74,000 sq. ft. Wilson Physical Education Complex, with Qnuru LED bulbs. Built in 1983 and still utilizing the original interior high bay light fixtures, the university was plagued with high energy costs, uneven illumination, and complex maintenance challenges. Qnuru replaced 78 of the building's 400 watt high intensity discharge bulbs with 168 watt Vector Luna LED bulbs. As a result, the Highlands University achieved a 36-month ROI and a substantial increase in lumen output and quality.
"When we flipped on our old high pressure sodium lights, they hit the grid so hard it pushed our entire building into peak metering," said Jorden Grimm, Capital Projects Operations Manager for Highlands University. "Our new Qnuru LED bulbs use 76% less energy, turn on instantly, and save my maintenance team from the vertigo-inducing ordeal of replacing burned out bulbs and broken ballasts suspended 50 feet in the air over wooden sprung basketball floors that can't accommodate heavy lift equipment."
Eliminating Environmental Toxins in Education Facilities:
Qnuru's LED bulbs eliminate the need for lighting ballasts which have recently been identified as an environmental challenge for many schools and businesses. Required to regulate the electric current in older high intensity discharge and fluorescent lights, ballasts often contain PCBs (polychlorinated biphenyls) which have been linked to cancer, impairment of immune and reproductive functions, other illnesses, as well as lower I.Q. levels. In December 2010, the U.S. Environmental Protection Agency issued a recommendation urging education facilities across the country to replace all old light fixtures after schools in the New York boroughs of Manhattan, Brooklyn, and the Bronx were found to have levels of PCB contamination exceeding EPA health guidelines.
"Our LED solutions address many of the extraordinary challenges schools face today," said Rhonda Love Dibachi, co-founder and COO of Noribachi. "LED lighting radically reduces operating costs, increases the quality of campus lighting which is essential for students' ability to learn and feel secure, and eliminates the potential of PCB contamination. By installing LED lighting, educational institutions are fulfilling their mission to inspire by example the next generation of environmental and business leaders."
About Qnuru:
Qnuru, a division of Noribachi, is a digital lighting technology innovator. Our intelligent lighting solutions deliver unparalleled light quality while reducing grid dependency to positively impact your bottom line. We design and manufacture brilliant lighting solutions, including Vector high wattage LED retrofit solutions for the commercial and industrial markets; Prism low wattage LED bulbs for homes and offices; the Matrix product line of new LED-based luminaires; and the Helix family of solar-powered LED luminaires. Qnuru products are UL Listed, ETL-Certified and designed, assembled, and tested in the U.S. Qnuru is part of the Noribachi Group.
About the Noribachi Group:
The Noribachi Group is creating next-generation smart energy applications for businesses and consumers worldwide. The Noribachi's suite of low-power, self-powered smart energy solutions includes commercial, industrial, and residential LED bulbs and luminaires; solar and hybrid solar/grid-powered consumer electronics; and industrial equipment that harnesses renewable energy sources. Using Noribachi's smart energy applications, businesses and consumers can take control of their power consumption while reducing their environmental footprint. Noribachi is privately held with offices in Albuquerque, NM; San Francisco, CA; and Shanghai, China.
###