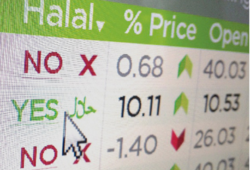 money can be moral, profit can be pure
Los Angeles, CA (PRWEB) July 11, 2012
Noriba Investing is a new, U.S.-based brokerage brand that, for the first time ever, empowers Muslim investors to "get their share" in the online investing world. Noriba Investing features a powerful trading platform that allows its clients to invest online in accordance with the value investing principles of Islamic Finance. The brand's name, Noriba, celebrates the brand's promise to investors. The word "riba" is Arabic for usury (or excessive interest), which is not permissible in Islamically-compliant or "Halal" investing. By utilizing Noriba Investing's unique trading platform, an investor can seamlessly avoid riba and other non-Halal investments when choosing the right stocks to invest in.
For example, a Halal portfolio can invest in companies that have low debt, and are engaged in socially beneficial industries while avoiding financial institutions, as well as those engaged in gambling, alcohol sales and armaments. Halal investing is based on a profit and risk sharing ideology and thus avoids short selling as well as highly speculative investments.
Noriba Investing seeks to offer a simple, transparent, and totally new experience that allows investors to trade stocks, mutual funds and ETFs across 18 markets in North America, Asia and Europe. By going online to Noriba Investing's site, they can instantly determine whether a publicly traded company or fund is deemed Halal or not and have full transparency as to why. Millions of Muslim investors would love to know if some of the most actively traded stocks are Halal or not before making the investment. Now they can find out (as can you) at the click of a button.
Noriba Investing initiated a soft launch in California in April of 2012 with a steady flow of new users signing up. Founder and CEO, Ahmad Bassam, expects the brand to debut nationwide at the ISNA (Islamic Society of North America) convention on August 31st of 2012 in Washington DC. When asked about his motivation behind creating the first online Halal investing brand, Bassam said,
"Noriba Investing was created because American Muslims and those who have faith in the Islamic way of investing, while welcome to contribute to America's prosperity, have up until now been unable to "get their share" when it came to investing in the markets. American Muslims, taxpayers, consumers and members of society, should be able to freely participate in the market without having to compromise their core principles. But up until now this was almost impossible to do reliably and some investors were being, in a sense, left on the sidelines."
As any enlightened investor knows, not just Muslims, money can be moral, profit can be pure, but only if you know that the companies whose stocks you are about to invest in do not engage in businesses or practices that compromise your beliefs.
Noriba Investing's ambition is to open up the world of investing to the global Muslim community by introducing this alternative system into the mainstream and making it practical to reconcile investing in the market with personal faith.
The management team features many who left successful professional careers with conventional firms to launch a brand that will both help the community and shed some light on the Islamic approach to investing.
Company Information:
Noriba Investing is a unique online securities brokerage brand located in Woodland Hills, California, that features a Scholar Board approved system that allows anyone instantly determine whether a traded company or fund is considered Halal, find out why, and then make a trade it from a single online platform. Noriba Investing also offers private wealth and asset management services. Visit http://www.NoribaInvesting.com to learn more. For institutional clients looking for this solution, Noriba Investing is developing an professional platform to help money managers and advisers create and manage Halal-compliant portfolios. Contact us to learn more about this product.