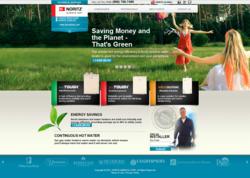 "www.noritz.com offers quick and easy access to essential information on Noritz products and services," explains Jay Hassel, VP of Sales and Marketing.
Fountain Valley, Calif (PRWEB) June 19, 2012
Noritz America announces the recent release of its new and improved website, http://www.noritz.com. The site got a facelift that packed it with helpful information on tankless water heaters for homeowners and professional users alike. It features information about energy savings, rebates and tax incentives. Visitors to the site can even make their experiences interactive by chatting online with Noritz representatives.
The homeowners' section helps consumers choose the hot water heater unit that best fits their needs. The site lists all water heater specifications, including thermal efficiency, energy factors, capacity ranges and sizes. Viewers will see an illustration of how a tankless hot water heater provides continuous hot water. Since there is no need to heat water until they are ready to use it, homeowners can save energy and lower their utility bills by using tankless water heaters.
Consumers can enter their zip codes on the site to receive help in locating qualified local installers as well as to learn about utility rebates for which they qualify. On the new site, they will also find a list of online retailers authorized to sell Noritz products.
"The new site, which will offer quick and easy access to essential information on Noritz products and services, is part of the organization's ongoing efforts to enhance the quality and availability of information to distributors, wholesalers, contractors, homeowners and end users," explains Jay Hassel, VP of Sales and Marketing.
The professional area of the website includes information for contractors, wholesalers, home builders, and all sectors that Noritz specializes in. In addition, Noritz offers classes for contractors and has a PROCard Program that features rebates for installers. Its improved website will provide information about the dates and subjects of the Noritz University training courses for construction professionals where attendees can receive instructions from Noritz engineers on installation and maintenance for tankless water heaters.
Noritz also manufactures commercial water heaters that meet the demands of housing complexes, hotels and other large businesses. Because Noritz is the only provider exclusively focused on tankless technology, the company can offer advanced products with quality craftsmanship and flexible installation options. The company's continuing commitment to research and development provides the newest technology available.
NORITZ AMERICA CORPORATION, a subsidiary of Noritz Japan, has its corporate office in Fountain Valley, Calif. Offering a full line of tankless water heaters to meet the hot water demands of residential and commercial applications. Noritz supports its products with a national network of skilled representatives and employees who are committed to providing the finest products and services to our communities by helping consumers live in a more comfortable, efficient and healthy lifestyle.
For more information on Noritz America and the entire line of Noritz's ENERGY STAR® tankless water heaters, please call 866.766.7489. Or visit our website at http://www.noritz.com.
The Noritz America media room is available at noritz.oreilly-depalma.com.
For editorial assistance, contact John O'Reilly c/o O'Reilly/DePalma at (815) 469-9100; e-mail: john.oreilly(at)oreilly-depalma.com