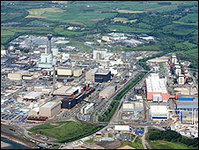 North England's industrial and nuclear technology heritage coupled with a newly discovered enthusiasm for nuclear innovation addressing both decommissioning and new build opportunities, make it clear that the North of England is a natural hub for those international companies targeting both UK and wider European nuclear business opportunities
Atlanta, GA (Vocus) October 29, 2008
According to the Nuclear Industry Association (http://www.niauk.org)], the UK is recognized as one of the top ten global markets for nuclear decommissioning opportunities. The decommissioning and clean-up of the UK's civil nuclear legacy represents a massive managerial, technological and environmental challenge, providing major opportunities for North American companies interested in becoming actively engaged in overseas markets.
The Nuclear Decommissioning Authority (NDA), (http://www.nda.gov.uk), a non-departmental public body established under the UK's Energy Act 2004, is responsible for the decommissioning and cleanup of 18 reactors. Currently, the UK has 23 reactors generating one fifth of its electricity. All but one of these reactors will be decommissioned by 2023. The NDA has ownership of the sites involved, but the operational work itself will be carried out by contractors. The NDA has established its headquarters in Cumbria, Northwest England.
It is estimated that the UK will spend in the region of $140 billion on this nuclear clean up initiative. The bulk of the expenditure, estimated at 60-65%, will be spent decommissioning the Sellafield site in Northwest England, the UK's largest nuclear site. These planned expenditures present significant opportunities for specialist companies from North America who have taken part in similar Department of Energy decommissioning projects and are now seeking to transfer this experience to new international markets.
North American Companies Involved
North of England Inward Investment Agency (NoE, http://www.NorthEngland.com) has been working proactively and collaboratively with North American companies interested in taking advantage of the opportunities provided by the UK government. The region has already attracted a number of U.S. companies who are involved in the UK nuclear decommissioning program. URS Corp (Washington Division), Energy Solutions, Fluor, Jacobs, CH2MHill, S.A. Robotics, Stoller, SEC Safety & Ecology and Project Time and Cost are just some of the US companies, who in addition to a host of indigenous engineering and specialist nuclear supply chain companies, base their operations in the North of England.
AttentionIT, Inc., based out of Knoxville, TN, is on the verge of expanding into the region with an anticipated contract to supply all Magnox South sites with their flagship waste management software, eMWaste®. As a result of this contract, they will establish a UK office on the outskirts of Manchester, which they project will grow to employ some 35-40 people within 3 years.
Dan Smith, Executive VP and Co-owner, says, "We're very excited about getting our first UK contract and to have made the decision to establish our UK operations in the North of England. In addition to servicing our UK client base this will also serve as our international HQ. With easy access to Manchester International Airport, we can begin to service other European markets and beyond. Our company may be based in Knoxville, TN, but I anticipate the UK office becoming the larger employer within the next 3 years and the wealth of talent in the Northwest region in areas such as engineering, project management and IT will help support that growth."
A Dynamic Region
North England is truly a global region paced for aggressive growth, and is also investing heavily to secure a dynamic nuclear future. The long-term future of the UK nuclear industry is being supplemented by educational, training and research initiatives such as the National Skills Academy for Nuclear (http://www.nuclear.nsacademy.co.uk/). The Nuclear Academy is set to be a world-class center of excellence for skills development encompassing the entire nuclear industry including generation, decommissioning, clean-up and waste management, to fuel processing, defense and potential new build. Lancaster University already offers both undergraduate courses in nuclear engineering as well as an MSc program in Nuclear Decommissioning. The region is also home to a number of world-class nuclear research bases, including the Dalton Nuclear Institute (DNI) at the University of Manchester (http://www.dalton.manchester.ac.uk), the Tyndall Nuclear Research Centre at the University of Central Lancashire, epidemiological and radiological expertise at Westlakes Research Institute in Cumbria (http://www.westlakes.org) and the recently announced National Nuclear Laboratory.
Facilities in Northern England carry out all aspects of the nuclear fuel cycle, from uranium enrichment to power generation and waste management. Approximately 300 North England companies play an active part in the nuclear supply chain, and 50% of the UK's 50,000 nuclear employees are employed in northwest England.
Market Opportunities
Decommissioning and clean up opportunities are identified in the areas of defense, prototype, test and research reactors together with other areas of the support infrastructure for the nuclear industry such as reprocessing and fuel fabrication facilities. Managing and dealing with these nuclear liabilities effectively is salient to the overall health of the UK nuclear industry, as well as the global nuclear market, and represents an area where the UK is seeking considerable expertise and skill.
"North England's industrial and nuclear technology heritage coupled with a newly discovered enthusiasm for nuclear innovation addressing both decommissioning and new build opportunities, make it clear that the North of England is a natural hub for those international companies targeting both UK and wider European nuclear business opportunities," states Ian Stewart, Vice President North of England Inward Investment Agency.
The North of England Agency stands ready to assist those North American companies seeking to establish a gateway to success within the UK and European markets. To learn more about the nuclear market opportunities available in North England and how we can assist your company, please visit http://www.NorthEngland.com or contact Ian Stewart at 404.995.6949 or ian.stewart @ northengland.com
About North England Inward Investment Agency
The North England Inward Investment Agency is a British Government-funded consultancy and UK-based inward investment agency whose role is to advise and assist North American companies considering UK/European expansion. Our services are free and confidential and include the provision of information on a wide range of important issues such as: market feasibility studies, business plan support, site selection, potential procurement of financial assistance/public grants, taxation issues, work-force training and recruitment, supply chain opportunities, skills availability, labor costs and regulations, market data, links and collaborations with Universities, introductions to key professional services and regulation advice. For more information, please visit http://www.northengland.com
###