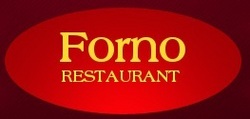 Big Canoe, GA (Vocus) April 12, 2010
Forno Sports Bar and Pizzeria is a favorite North Georgia restaurant in Marble Hill, GA is reinventing itself to attract new customers by developing a new menu, enhanced seating and revamped operating hours. The strategy behind the new menu is to provide a more diverse menu selection than previously offered to satisfy many different eating preferences. Changes to the menu include two new appetizers, Mozzarella Sticks and Chips and Salsa. In the salad department they have added a Greek salad, a House Salad with strawberries and raspberry vinaigrette dressing and a Buffalo Chicken Salad with Jalapeno Ranch Dressing. They have also incorporated three new South of the Border items including a Fajita Taco Salad, a West Coast Burrito and Crazy Nachos. The Forno sandwich selection has also been enhanced with five new sandwiches for lunch or dinner including a new specialty Burger with Applewood Smoked Bacon and Provolone Cheese, a Turkey Panini, a Vegetable Panini, Buffalo Chicken Sandwich, a Steak Sandwich Topped with Caramelized Onions, Mushrooms and Provolone cheese and Chicago Italian Beef Sandwich with Bell Peppers, Gardenara Peppers and Au Jus Sauce.
Forno's has been extremely popular for their Italian Pasta and Chicken Entrees which will also remain on the menu. These items include Shrimp Fra Diablo, Pinocho's Penne A La Vodka, Spaghetti and Meatballs, Chicken Picatta, Chicken Parmesan, Chicken Marsala, Vegetable Risotto and Lasagna. The new menu still offers other Forno's favorite items including many varieties of Pizzas such as their famous They have also kept their popular items including their Philly Cheesesteak and Greek Gyro sandwiches and their stadium favorites including the Chicago Dog, New York City Dog and the famous Chili Cheese and Onion Dog. Forno is also a kid friendly restaurant offering a kids menu with Pizza, Chicken and Spaghetti and Meatballs. The new Forno menu is key to this popular restaurant's move to reinvent itself to attract new customers. Other components of this strategy include a new seating plan and enhanced hours of operation.
Forno's is now offering outside seating so customers can now enjoy the fabulous North Georgia spring, summer and fall weather while dining. In addition, Forno has opened a new area that can seat large parties or handle overflow seating from the main restaurant when it is fuly booked. They have also changed their operating hours ( Mon-Thurs 11am-9:30pm, Fri-Sat 11am-10pm and Sun 12-9:30pm) to make dining more convenient for their customers. As always all menu items at this Norht Georgia Reataurant are available "To-Go" and catering is always available.
Art Macias Manager of Forno said, "We have improved the menu to give our customers a much more diverse selection of items to choose from. We wanted to give them some increased variety beyond our previously all Italian menu. We wanted our guests to have a large selection new items while keeping many of our most popular items from our previous menu. The new menu has received rave reviews from our old customers and is really working to attract new customers, so we know it is working. In addition, we are also offering menu and discount specials throughout the week as an added value to our customers."
Forno Sports Bar and Pizzeria is located in the Foothills Shopping Village, in Marble Hill, GA just down the road from the Big Canoe Resort. Forno can be contacted online or by phone at 770.893.4222.
###