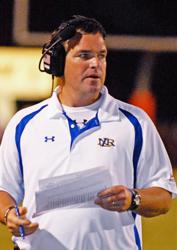 Heroes are brave and capable of leading others, and they resolve problems that confront society. We admire their dedication and aspire to be as courageous and focused as they are.
Little Rock, Arkansas (PRWEB) May 23, 2011
The members of Rainwater, Holt & Sexton are pleased to recognize Brad Bolding, head football coach at North Little Rock High School, for 14 years of continued hard work and dedication and for being a positive role model for student athletes. As the second honoree of the law firm's community hero recognition program, The Ripple Effect, Bolding is an all-star high school football coach who has led teams to championship wins and strives for nothing but the best—for himself and for his team.
"Being the father of three now-grown sons and having served on the board of a local school, I know firsthand the impact a coach can make on the life of a student," said Arkansas personal injury attorney Mike Rainwater, managing partner of Rainwater, Holt & Sexton. "Coach Brad Bolding is the type of coach and role model every parent hopes their children might encounter. We are happy to be able to honor Coach Bolding with this award for a job well done."
Bolding says he is concerned with the direction young people are headed. As a result, he invests a lot of time discussing character development in addition to teaching his football players how to respect women and about the importance of being a good husband, dad, and role model. He says being a hero isn't only about achievement; it's the effect that achievement has on everyone else and what can be taught from the struggle and hardship it took to gain that achievement.
"We look up to people who are making differences in our lives while at the same time overcoming personal struggles and hardship to achieve their goals," said Bolding, who credits his father for teaching him to never quit and to do everything with honesty and integrity. "Heroes are people who demonstrate high standards of character and dedication and who inspire others. They are brave and capable of leading others, and they resolve problems that confront society."
The Effects of a Role Model
The members of the law firm aren't the only ones who consider Bolding a hero. The athletes he coaches every day have plenty to say about their coach and role model.
"I have the best coach in the world," said Kendall Williams, junior and student athlete at NLRHS. "If it wasn't for Coach Bolding, I probably wouldn't be in football because I never had the confidence to play—I never believed in myself as much as I do now. He stresses the importance of having spirituality and faith, and I thank him dearly for that."
"Coach Bolding stands out from other coaches," reiterates Herb Crossgrow, student athlete and junior at NLRHS. "He takes us to football camps and helps us with schoolwork. I like the fact that he is always on us—like if we mess up, he is right there to make sure we get back on track."
In addition to being on the board of the Arkansas Football Coaches Association and a member of the Fellowship of Christian Athletes, Bolding has an impressive 14-year coaching career, including:

winning the 2000 State Championship (Greenwood High School)
being named the 2006 3A Coach of the Year (Mayflower High School)
winning the 2009 7A Central Conference Championship (North Little Rock High School)
being named the 2010 All-Star Football Coach (North Little Rock High School)
Hey, Who's Your Hero?
Throughout the year, Rainwater, Holt & Sexton honors local heroes by highlighting their good deeds and sharing their stories. Honorees receive engraved trophies, and donations will be made to charities of their choice. The law firm recognized Robert Upshaw as the first Ripple Effect hero earlier this year. As the director of the Central Arkansas FCA, Upshaw has devoted the past 17 years to making a positive difference in students' lives across the state.
About The Ripple Effect
At a time when negative news predominates, it's comforting to know genuinely good and honest people really do exist. These are everyday people who are faithfully doing what they've been called to do—whether they're coaches, teachers, law enforcement officers, pastors, or members of the armed forces, just to name a few. To help shine a spotlight on these people and provide inspiration for others, Arkansas law firm Rainwater, Holt & Sexton launched The Ripple Effect—an ongoing initiative that celebrates and shares the stories of local heroes who continue to make a positive difference. Click here to learn more and nominate a hero.
About Rainwater, Holt & Sexton
Rainwater, Holt & Sexton has successfully litigated a wide range of claims throughout Arkansas. With a staff of nearly 50 legal professionals, the Little Rock-based law firm focuses on plaintiffs' personal injury law. The firm's attorneys are committed to representing the rights of individuals and take pride in their reputation as knowledgeable litigators and effective negotiators. Click here to learn more about Rainwater, Holt & Sexton.
###