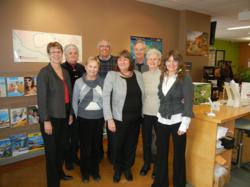 Your agency is distinguished among many for your commitment and support to Air Canada
North Bay, Ontario (PRWEB) February 15, 2013
Canada's national carrier announced its prestigious list of travel agencies that made it to the "2013 Circle of Excellence". Included on the list was North Bay Travel Agency Keystone Travel. Susan Clements, director of agency sales, presented the list and congratulated all of the travel agencies who made it on this year's list saying, "As the Circle of Excellence member, your agency is distinguished among many for your commitment and support to Air Canada. On behalf of the entire Air Canada family, I would like to congratulate you on your success in 2012. We are pleased to have you as part of the 2013 Circle of Excellence."
There are over 5,239 travel agencies across Canada and 2,186 of these are based in Ontario alone. This year, only 49 travel agencies made it to the "Circle of Excellence" list, and 21 of these are based in Ontario. A North Bay travel agency, Keystone Travel which offers Air Canada vacations, flight bookings, adventure tours, cruise packages, and travel insurance is the only agency headquartered in Northern Ontario to receive this award.
Keystone Travel's general manager, Lois Macleod said, "We extend our deepest and heartfelt thank you to our business and leisure clients. This solidifies our position as highly recognized and preferred travel agency in the North Bay area and it inspires us to give more value to our clients by constantly exceeding their expectations.
To book your next travel vacation with Keystone Travels, you can visit their site at http://www.keystonetravelandcruises.ca/.