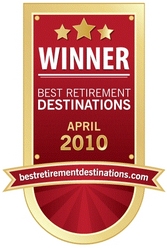 Plymouth, IN (PRWEB) April 1, 2010
The top North Carolina retirement communities have been announced by bestretirementdestinations.com, the independent authority on where to retire. In order to develop the list, thousands of applicants were filtered through by an experienced research team in order ensure that only the best destinations were ranked.
Each applicant community was scrutinized based upon an internally developed set of criteria. The research team analyzed the various amenities that the North Carolina retirement communities had to offer. In addition the team contacted at least three residents of each community in order to let them evaluate the community from their perspective. Once the process was complete, the information was compiled, and a list of the best was developed.
North Carolina's best retirement communities for April 2010 are:
1. French Broad Crossing - Marshall
2. Wakefield Plantation- Raleigh
3. Linville Ridge- Linville
4. Bright's Creak- Mill Spring
5. Trillium- Cashiers
6. Echota- Boon
7. The Legacy at Jordan Lake- Chapel Hill
8. Smoky Mountain Retreat- Maggie Valley
9. Hidden Lake- Youngsville
10. Cielo Falls- Boone
Established in 2008, bestretirementdestinations.com, the independent authority on where to retire, sought to help individuals that nearing retirement find the best destinations to enjoy life after work. Life does not end when the final clock out occurs, but instead the adventure just begins. With this goal in mind, they established criteria based upon the lifestyle, location, and price range. Every community is evaluated based on a the unique set of criteria developed for each category.
To find out more about each community visit:
http://www.bestretirementdestinations.com/rankings/top-communities-for-north-carolina
Retirement communities interested in being ranked by bestretirementdestinations.com can apply at:
http://www.bestretirementdestinations.com/rankings/communities/apply-for-ranking
# # #