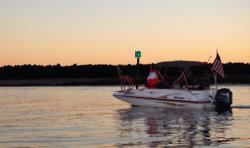 North Myrtle Beach, SC (PRWEB) October 05, 2011
The holidays are just a few short months away. It's a busy time of year, but Vacation Rentals of North Myrtle Beach can help you plan a relaxing holiday trip to the Myrtle Beach, North Myrtle Beach and Little River areas. These are great places to spend Christmas, Thanksgiving and New Year's; guests can escape the cold, spend quality time with family and friends and enjoy a quiet but colorful beach community.
The North Myrtle Beach vacation rental company has homes and condos for both large and small families, so don't worry about having enough room for a big holiday celebration! The properties all have fully stocked kitchens, ensuring that guests can create a homemade holiday feast. If guests don't want to cook, however, they won't have to go far to find other dining options. Many area restaurants remain open year-round and can accommodate holiday parties and meals.
There are plenty of festivals and other events that happen during the fall and winter months as well. Looking for a festive holiday-themed activity? Little River hosts the Intracoastal Christmas Regatta in late November, or guests can check out the Dickens Christmas Show and Festival in the Myrtle Beach Convention Center November 10-13. Bluegrass fans will enjoy the SC State Bluegrass Festival, held November 24-26.
Vacation Rentals of North Myrtle Beach does much more than just help vacationers find the perfect property. The staff is available 24/7 to answer all questions and will immediately address any concerns. Additionally, staff members can make reservations, book tee times and purchase event tickets! They are here to make sure their guests get the most out of the holiday season.
Vacation Rentals of North Myrtle Beach is conveniently located at 1021 2nd Avenue North, Suite 6 and can be contacted directly to discuss rental properties at 1-888-488-8588 or online at http://www.vacationrentalsofnmb.com.
###