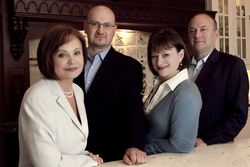 A lot of real estate companies have approached us over the years, but @properties was the best fit
Winnetka, IL (Vocus) April 1, 2010
The family behind Heritage Luxury Builders, one of the largest luxury homebuilders in North Shore Chicago real estate, has joined @properties.
Heritage co-founders Leo and Milena Birov, their daughter Victoria Birov and son-in-law Steven Aisen, all Heritage executives as well as licensed REALTORS®, recently made the move to @properties in order to benefit from enhanced marketing services for both their homebuilding and brokerage operations.
Milena Birov leads the brokerage activities for Heritage (http://www.heritageluxury.com) but said all four family members play an integral role in sales, including land acquisition, the sale of Heritage's new custom and spec homes, and the sale of clients' existing homes.
Their combined efforts have made Milena Birov a perennial top producer on the North Shore. She currently ranks first among North Shore Chicago real estate agents with more than $12 million in closed sales volume year to date. In 2009, she was the second highest producing agent on the North Shore with closed volume of $24.2 million. Over the past four years, she has averaged almost $30 million in annual sales. (BrokerMetrics, LLC).
@properties co-founders Thaddeus Wong and Michael Golden said the addition of the Birovs has major resonance for @properties' luxury brokerage business on the North Shore. While @properties has the leading market share for residential sales volume in the city, it recently has established a strong presence along the northern lakefront.
"Heritage has the reputation of being the finest builder of luxury North Shore estate homes. The combination of Heritage and @properties is a perfect blend of luxury brands where all objectives are aligned and the pursuit of perfection is a true team effort," said Wong.
"A lot of real estate companies have approached us over the years, but @properties was the best fit," said Milena Birov. "They are a local, independent firm, and they understand the needs of the builder as well as the needs of our clients. Our buyers do a lot of research and are very involved in the building process, and @properties has the infrastructure to support the level of marketing and communication that is required in our business today. They also offer some great synergies between the city and the North Shore."
According to Leo Birov, Heritage Luxury Builders currently has 14 building projects, including custom and spec homes, in various stages of development. A six-bedroom spec home on Greenleaf Avenue in Glencoe is priced at $3.595 million, and a seven-bedroom spec home on Mt. Pleasant Street in Winnetka is priced at $3.675 million. The company is also building its first custom home in Lincoln Park and a custom home in Mequon, Wis., just north of Milwaukee.
"We are busier than ever," said Leo Birov. "The market over the last couple of years has created new opportunities for us, including expansion beyond the North Shore. We will see some slight improvement this year in the high-end market," he predicted.
Michael Golden, co-founder of @properties, also sees his firm's North Shore operations growing rapidly over the next 12 months. "There are a lot of agents, homebuyers and sellers on the North Shore who are looking for more support and better resources. Our business is still about relationships, but how you manage those relationships has evolved, and top brokers and builders like the Birovs recognize that."
Prior to joining @properties, Milena Birov was the No. 1 agent in the Winnetka office of Koenig & Strey. Leo Birov was also with Koenig & Strey. Victoria Birov and Steven Aisen were with Victorian Properties, LLC.
Leo and Milena Birov are residents of Winnetka. Victoria Birov and Steven Aisen reside in Glencoe.
About @properties
Established in 2000, @properties is the #1 real estate brokerage company in Chicago. In addition to residential brokerage services, @properties offers commercial sales and leasing; sales and marketing for new-construction and condominium-conversion developments; relocation; property management; and institutional services for distressed and REO assets. The company has 850 licensed agents in seven city and North Shore Chicago real estate locations: Bucktown, Lincoln Park, River North, Streeterville, Lakeview, Evanston and Winnetka. For more information, visit http://www.atproperties.com.
# # #