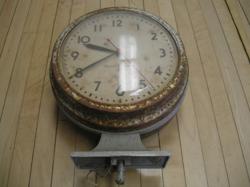 All proceeds of Northampton State Hospital items on Municibid.com will go toward fountain restoration and park creation on the original site. Funds will be used to memorialize former patients and staff.
Northampton, MA (PRWEB) June 03, 2013
In a massive online auction that started on June 1st and ends on June 30th, The City of Northampton, MA is selling unique and historically significant items recovered from Northampton State Hospital, which was closed and abandoned in 1993 after 135 years of operation. Included in the sale are uncommon items, such as an antique Edwards Company clock, pew benches and separators, timeworn auditorium chairs along with the edge of a stage, and several old wooden bins. Other intriguing items ideal for collectors also include a sink and urinal, an antique slab bath table, and framed window glass. The 35 lots of surplus items will be auctioned on Municibid.com for additional non-tax revenue. By using an established, but innovative, online government auctions site specifically designed for municipalities, Northampton is conducting a month-long auction of these rare surplus items. The city is looking to garnish thousands of dollars to be used toward a park and memorial.
The Northampton Office of Planning and Sustainability is using online auction site, Municibid.com, to sell the items. Municibid was established in 2006 and has grown steadily since, with over 1,000 government agencies auctioning surplus through the efficient online system. The city is auctioning the unique surplus items online because the website has an established nationwide reach growing every day. Auctions on Municibid result in competitive bidding and fair prices for government surplus items. Exposure to this sale is expected to be far-reaching.
In 1855, a state commission on the treatment of the mentally ill selected Northampton as the site for the state's third "lunatic hospital." In the beginning the State Lunatic Hospital at Northampton was intended to serve the ill with the most progressive care and advanced architecture, medicine and technology available. Following the Moral tradition of treatment and set on what many called the most beautiful place on Earth, the third state hospital for the insane in the Commonwealth of Massachusetts was unlike any other. The hospital filled rapidly, even before construction was complete, and the facility's size and amenities were expanded several times in the early 1900s, reaching a peak of 2,500 patients and 500 staff in the 1950's. With the rise of psychotropic drugs, patient numbers began decreasing in the 1960's. At the same time, the Commonwealth, propelled by litigation, moved toward alternative community-based treatments for mental illness, and away from institutionalization. The Department of Mental Health began transferring surplus property in the 1970's, and in 1993, the hospital's last 12 patients were reassigned and the facility closed. Nearly all of the buildings on the hospital's main campus have been demolished, and the site redeveloped as Village Hill, a mixed-use community.
Municibid Founder and CEO, Greg Berry said, "Taxpayer demand and tightened budgets require government agencies to look for new ways of increasing non-tax revenue. Municibid is an easy way to achieve this and at no cost to the agency." Berry added, "Auction items will reach a much broader, national audience of competing bidders, leading to better net results. Together with Northampton, we at Municibid would like to see excellent revenues from this auction, which will be used to recognize the former hospital's significance to the community."
All proceeds from the sale of Northampton State Hospital items will go towards restoration of a fountain from the hospital grounds, and creation of a park on the site of the fountain's original location. The funds will also be used to memorialize the patients and staff of the former hospital, and the hospital's importance to the history of Northampton. The City of Northampton's government surplus online auction ends on June 30th. Thirty-five items are featured in the uncommon auction including antique clocks, doors, auditorium chairs, finials, and game tables, as well as a slab bath table, sink and urinal, pew bench and other surplus items recovered from the historic Northampton State Hospital.
The City of Northampton surplus auction can be found online here:
https://www.municibid.com/storecatalog.asp?userid=9056
About Municibid.com
Municibid.com is an online government auctions platform serving over 1,000 state and local government agencies across the US from cities like Philadelphia, Boston and Baton Rouge, to small towns, authorities, school districts and universities. Municibid is designed for government agencies to more effectively sell surplus, forfeitures and other no longer needed items to the public via a convenient and easy-to-use website. Municibid proactively markets items nationwide via social media and traditional avenues at no cost to the selling agency.