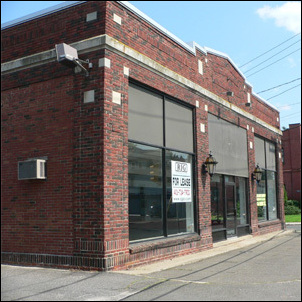 empty pill bottles, lubricants, leather straps, movies and used condoms within 100 yards of the rear of the establishment.
Northampton, MA (PRWEB) July 6, 2006
Residents of Northampton, Mass. are mobilizing to fight a proposed pornographic video and magazine store with 20 enclosed viewing booths. The planned location is a former auto dealership at 135 King Street, a short walk from the center of town. The site is surrounded by homes, churches, mental health counseling centers and a school of dance. Northampton (population 29,000) is the home of Smith College, the nation's largest liberal arts college for women. Author John Villani calls Northampton the "#1 Small Arts Town in America".
"We support people's right to free expression, and we also believe that porn shops should not be located next to homes, schools and churches," says Jendi Reiter, legal counsel to NoPornNorthampton. "Case after case across the country state that these two goals are compatible, and that cities have the right to regulate the time, place and manner of viewing adult entertainment."
The owner of the prospective porn shop is Kenneth Guarino, President-CEO of Capital Video Corporation. Established in 1979, Capital Video operates several adult book shops in the US, primarily in the Northeast. Guarino tells Dun & Bradstreet that Capital Video had over $21 million in sales in 2005.
Court documents state that Guarino has been "associated with Natale Richichi, a capo in the Gambino family of La Cosa Nostra." Over time Guarino paid Richichi at least $1,728,000 in cash to "fend off extortion attempts and to assist Guarino with other business matters where Richichi's influence as a capo might benefit Guarino." In 1997 Guarino pled guilty to a charge of conspiracy to evade taxes. He was sentenced to sixteen months in prison, eleven of which were served in a halfway house, and fined $250,000. (For details see United States Court of Appeals for the First Circuit, Case No. 02-1564, Capital Video Corporation; Kenneth Guarino v. Commissioner of Internal Revenue, November 27, 2002.)
One of Guarino's shops in Kittery, Maine, called Amazing.net, has been the focus of community concern this year. The Kittery police department recently found "empty pill bottles, lubricants, leather straps, movies and used condoms within 100 yards of the rear of the establishment." When undercover detectives entered viewing booths in the porn shop, they observed "what appeared to be tremendous amounts of body fluids on all three walls and on the floor." These fluids were confirmed to be semen. A former employee of the shop told detectives that people had sex in the booths and the bathrooms. The Kittery Town Council passed an ordinance to remove the doors to the booths so people can see into them. So far this ordinance has been upheld in court. "There is no fundamental liberty interest to view sexually explicit materials in a closed viewing booth at a business," writes York County Superior Judge Paul Fritzsche.
Studies show that porn shops with viewing booths facilitate prostitution, sexual encounters and the discharge of bodily fluids that spread disease. Adult businesses are known to increase crime in their vicinity. Neighbors frequently complain of harassment and sexual assault by patrons of porn shops, as well as finding used condoms and other hazardous trash on their property.
NoPornNorthampton has set up a weblog at NoPornNorthampton.org to collect and share information about porn shops, their regulation, and Capital Video Corporation. We encourage the city of Northampton to regulate sexually oriented businesses and keep them away from homes, schools, churches and other vulnerable populations. We support frequent government inspections for health and safety and a ban on private viewing booths.
"Northampton has long been a refuge for people who care about women's equality, human dignity and the arts," says Jendi Reiter. "Porn shops hurt neighborhoods with crime, violence against women, and sexual addiction that breaks up families. Our town can do better."
This press release contains assertions and opinions, including quotations, from numerous sources. We are not verifying the content of this material. But we are verifying that, to the best of our knowledge and belief, the material is accurately reproduced and that it is attributable as indicated.
# # #