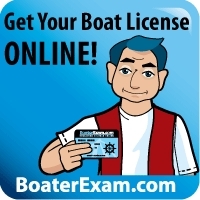 Educated boaters are safer boaters
Raleigh, NC (Vocus) May 26, 2010
As of May 1st 2010, a North Carolina Boating License is required for anyone 26 and younger who operates a powered watercraft of 10hp or over on state waters. A North Carolina Boating Safety Course is available from BoaterExam.com, industry leader in boater safety education. The online course includes a 60-question North Carolina boat license test.
Mandatory boater safety education is expected to reduce boating accidents and boating fatalities. "Educated boaters are safer boaters" says Kerry Moher, V.P. Business Development with BoaterExam.com, "more people with boat licenses means safer waters in North Carolina."
In an attempt to target all learning styles, the North Carolina Boating Safety Study Guide is fully narrated, contains interactive exercises and over 150 animated videos that touch on every boating safety topic.
The North Carolina Boat License Test also features visual exam questions. The boating safety course and exam are approved by the National Association of State Boating Law Administrators (NASBLA), recognized by the U.S. Coast Guard, and approved by the North Carolina Wildlife Resources Commission.
"Students love the online safe boating course," says Moher, "they can sit back and watch our animated videos that walk them through all the study material. And visual learners can't imagine taking the boat license test without our visual exam questions."
The online course is available to anyone as a free study tool. After passing the North Carolina boat license test online, students pay a one-time fee of $29.95 for the permanent, wallet-sized license. Temporary boating licenses are available for print online, allowing students to go boating right away.
The North Carolina boating license is good for life and does not need to be renewed, and is recognized in most other states that also have mandatory boater education requirements.
###