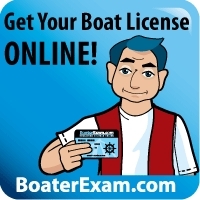 We were happy to hear about the change in legislation
Raleigh, NC (Vocus) April 30, 2010
The North Carolina Wildlife Resources Commission has announced that a change in legislation will require anyone under the age of 27 years, who operates a vessel of 10hp or greater to obtain a state-approved boater education certificate. The new legislation take effect on Saturday, May 1st 2010 and is expected to have many boaters scrambling to obtain a boater education card. North Carolina boaters can access a boating safety course at http://www.boaterexam.com.
BoaterExam.com, an industry leader in boating education, offers a North Carolina Boating Safety Course which will allow students to obtain their boater education card in an online setting. "We were happy to hear about the change in legislation," says Kerry Moher, V.P. Business Development, BoaterExam.com, "With boating season fast approaching, safety training is crucial to reduce the number of boating-related accidents and even fatalities."
BoaterExam's online course is fully animated, narrated, and offers visual exam questions. With a high degree of interactivity, the course targets all learning styles, and has been found to be beneficial to students with learning disabilities. "Our students love the convenience and the interactivity of the course. After the 60-question final exam is passed they can print out a temporary boating license and go boating right away."
With a 'pay only if you pass' policy, students in BoaterExam's online course pay a one-time fee of $29.95 once they pass the final exam. Temporary cards can be printed immediately once payment is received. The boater education card, often referred to as the North Carolina Boating License, is received within 2-3 weeks of the online exam, and does not expire.
###