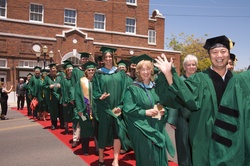 We are extremely pleased to have had so many of our graduates join us for the ceremony this year, more than double the number that attended the ceremony in 2007
Prescott Valley, AZ (PRWEB) July 29, 2008
Growing online higher education provider Northcentral University (http://www.NCU.edu) has announced that 84 graduates and their families from around the globe attended the school's 2008 graduation ceremony held in Prescott, Arizona at the Elks Opera House.
"We are extremely pleased to have had so many of our graduates join us for the ceremony this year, more than double the number that attended the ceremony in 2007," commented Dr. Clinton Gardner, NCU President. "As a 100% online higher education university with courses starting monthly, our students graduate at different times during the year. This year we had nearly 300 graduate and we are very proud that 84 chose to attend the 2008 graduation ceremony."NCU graduates attending the ceremony came from as far away as Cameroon, Germany, Great Britain, and China, and as near as Chino Valley, Arizona. Northcentral University's total online learning http://www.ncu.edu/admissions/admissions.aspx [enrollment
is approaching 7,000, having more than doubled in the last two years.
Dr. Joe DiRenzo III, a retired Coast Guard officer, delivered the commencement address. DiRenzo is an online learning alumnus of NCU who earned his Doctor of Philosophy in Business Administration with a specialization in Homeland Security in 2007.
Northcentral University's 2008 graduation ceremony took place in the historic Elks Theater on Gurley Street in downtown Prescott. The ceremony was preceded with a Provost's Breakfast at the Hassayampa Inn where graduates who distinguished themselves during their academic programs were recognized. After the 2008 graduation ceremony, online learning graduates and their families were honored with a reception at the Hassayampa Inn.
About Northcentral University
Founded in 1996 and headquartered in Prescott Valley, Arizona, Northcentral University (http://www.NCU.edu) is a private, 100% online higher education institution serving students worldwide. NCU offers bachelor's, master's, and doctoral degrees in Business and Technology Management, Education, and Psychology. NCU focuses on customizing online higher education academic programs to each student's personal and professional interests, and NCU faculty provide one-on-one online learning guidance to ensure academic success.
NCU is regionally accredited by The Higher Learning Commission of the North Central Association of Colleges and Schools, and the School of Business and Technology Management is accredited by the Association of Collegiate Business Schools and Programs (ACBSP). For more information about all Northcentral University's degree and certificate programs, visit http://www.NCU.edu or call toll free 866-776-0331.
###