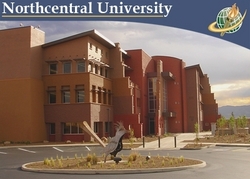 college within everyone's reach
Prescott, AZ (PRWEB) July 28, 2007
Northcentral University (http://www.ncu.edu) and Rio Salado College (http://www.riosalado.edu) today announced a teacher education partnership allowing Rio Salado students the opportunity to complete bachelor's degrees in education online at NCU. Northcentral University offers bachelor's degree completion programs in education, business and psychology in addition to master's and doctoral degree online learning programs and is a perfect complement to Rio Salado's online teacher education program.
"Our teacher education classes are very popular. Not only do our teachers report they are well-prepared for the classroom but their principals say the same thing," said Rio Salado Vice President of Teaching and Learning Dr. Karen Mills.
With the newly announced teacher education partnership, students in Rio's teacher education program have even more opportunities, including the ability to earn a bachelor's degree at Northcentral University. Students can now complete 90 credits hours, including student teaching from Rio Salado College, transfer all of the credits to NCU and then complete the remaining 30 credits for the bachelor's degree program by taking 100% online courses with NCU.
The supply of elementary, secondary and special education teachers in Arizona currently does not meet the demands of the state's growing population. The Arizona Department of Education authorized Rio Salado to offer courses that prepare students for teaching, including supervised student-teacher practicum. NCU then offers the additional coursework required to complete the bachelor's degree which is needed to take the Arizona State Teacher certification examination. The Arizona Teaching Certificate has reciprocal agreements with 44 other state departments of education, making the online programs of RSC and NCU an option for many students throughout the United States who are seeking to become teachers.
"NCU is delighted to partner with Rio Salado College to offer this Bachelor's degree completion option", commented Dr. Claudia Santin, President of Northcentral University. "Rio Salado students are familiar with the online teaching-learning environment and NCU staff and faculty are prepared to ensure a smooth transition and successful educational experience."
NCU already partners to offer Rio Salado graduates of the Post-Baccalaureate Teacher Education Program (RSCTEP), an opportunity to transfer 18 credit hours to complete a Master's degree in Education (M.Ed.) at NCU. NCU offers online doctoral degree programs (Ed.D. or Ph.D.) and credits earned through this partnership are also applicable to the doctoral degree programs.
For more information on the bachelor's degree in education, contact Rio Salado College at http://www.rio.maricopa.edu/ or Northcentral University at 866/776-0331 or visit http://www.ncu.edu.
About Rio Salado College
Rio Salado, known as the "college within everyone's reach," serves more than 60,000 students annually and is one of the premier distance learning colleges in the country. Based in Tempe, Arizona, Rio Salado combines cutting-edge technology with choice, access, and flexibility. With classes starting every two weeks and more than 450 unique online courses to choose from, Rio Salado's anytime, anyplace education makes it the college of choice for working adults. Rio Salado Colleges is the largest of the ten Maricopa Community Colleges and holds the maximum 10-year accreditation from the Higher Learning Commission of the North Central Association.
About NCU
Founded in 1996 and headquartered in Prescott, Arizona USA, Northcentral University (NCU) is a private, 100% online institution serving adult learners worldwide. Learners seeking higher education from a premier university experience the convenience of 100% online distance learning and NCU's flexible term format designed to meet the needs of busy professionals. NCU focuses on customizing academic programs to each Learner's personal and professional interests, and NCU Faculty Mentors provide one-on-one guidance to ensure academic success. NCU is regionally accredited by The Higher Learning Commission of the North Central Association of Colleges and Schools, Chicago, Illinois.
###