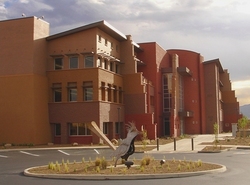 As an accredited online university, Northcentral University is prepared to serve accounting professionals worldwide. We are the first to offer this advanced accounting specialization wholly online, giving finance professionals the opportunity for advancement without time away from family or career
Prescott Valley, AZ (PRWEB) March 24, 2008 -
Northcentral University, an innovator in 100% online higher education, has introduced its advanced accounting specialization as part of the PhD and DBA programs in Business Administration designed to offer CPA's and others the ability to earn a doctoral degree with zero residency requirement.
"As an accredited online university, Northcentral University is prepared to serve accounting professionals worldwide. We are the first to offer this advanced accounting specialization wholly online, giving finance professionals the opportunity for advancement without time away from family or career," stated Dr. Clinton Gardner, NCU President. "Accounting is a driving force behind any business, and the recent shortage of doctoral degree holders threatens the future of the accounting profession," Gardner added.
Northcentral University's School of Business and Technology Management offers master's and doctoral degree programs as well as Certificates of Advanced Graduate Studies in this important discipline.
"Recent accounting scandals and changes in financial laws and regulations have increased the demand for accountants and opened up new, interesting accounting specialties, such as forensic and fraud accounting," commented Gardner.
Advanced accounting specialization courses may fulfill individual state regulations for licensure, provide continuing professional education (CPE) units and offer additional credits necessary to sit for the CPA exam. Students will be able to analyze business transactions and prepare financial statements concerning the assets, liabilities and operating results of a business. They will also assess the relationships among business activities, economic outcomes and business performance. In addition, Northcentral University's advanced accounting specialization doctoral degree programs offer courses that include studies in fraud examination and forensic accounting.
For more information regarding Northcentral University's online higher education programs, or its advanced accounting specialization, visit http://www.ncu.edu.
About Northcentral University
Founded in 1996 and headquartered in Prescott Valley, AZ, Northcentral University (http://www.ncu.edu) is a private, 100% online higher education institution serving students worldwide. NCU offers bachelor's, master's, and doctoral degree programs as well as certificates of advanced graduate studies in the school of business and technology management, education, and psychology. NCU focuses on customizing academic programs to each student's personal and professional interests, and NCU faculty provide one-on-one guidance to ensure academic success.
NCU is regionally accredited by The Higher Learning Commission of the North Central Association of Colleges and Schools, and the School of Business and Technology Management is accredited by the Association of Collegiate Business Schools and Programs (ACBSP). For more information about all Northcentral University's certificate and doctoral degree programs, visit http://www.ncu.edu or call toll free 866-776-0331.
###