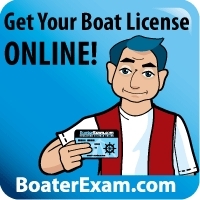 There's no question about it; educated boaters are safer boaters
Bismarck, ND (Vocus) May 26, 2010
All boaters in North Dakota between the ages of 12 and 15 must have a valid North Dakota Boater Education Card to operate a powered watercraft on state waters. A North Dakota Boating Safety Course is available from BoaterExam.com, industry leader in boater safety education. The online course includes a 60-question final exam to obtain the certificate.
It is believed that this boating safety legislation has helped reduce the number of boating accidents and boating related fatalities. "There's no question about it; educated boaters are safer boaters" says Kerry Moher, V.P. of Business Development with BoaterExam.com. "Our online course has been an extremely popular option for certification in recent years." The online boating course is recognized by the U.S. Coast Guard and approved by the National Association of State Boating Law Administrators (NASBLA) and the North Dakota Game & Fish Department (NDGFD).
The BoaterExam North Dakota Boating Safety Study Guide is fully narrated, contains interactive flash-based exercises, over 150 animated videos and visuals in every boater safety exam question. "Our students love that they can sit back and learn about safe boating in an interactive environment," says Moher, "the course engages students of all ages and learning styles."
The resulting Boater Education Card is NOT an "North Dakota Boating License". Unlike a driver's license, the North Dakota Boater Education Card is good for life and does not need to be renewed. After passing the online safe boating course, a one-time payment of $29.95 is made to BoaterExam for the course and the permanent wallet-sized card. There is a temporary certificate available for print online, and the permanent card arrives by mail in 2-3 weeks.
# # #