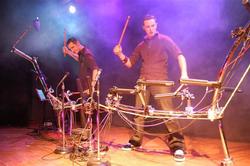 AudioBody provides a unique and exciting experience for the public, bringing music alive with their 'Blue Man Group meets the Smothers Brothers' show
Portland, ME (Vocus) June 6, 2009
AudioBody, the popular-music sensation, kicks off its 2009 tour this June, with Northeast Bank as a key sponsor.
Throughout this years' tour, Northeast Bank will be sponsoring several of the larger-venue shows for AudioBody, establishing a "tour within-a-tour" style for the group and its audiences. The Portland Performing Arts Center will be the first stop of the Northeast Bank Tour's presentation of AudioBody on Friday June 26th at 7:30pm.
Most-recently noted for their musical soundtrack to the experiments by EepyBird (the Diet Coke and Mentos guys who became an Internet sensation), the two members of AudioBody refer to themselves as "a molten volcano of Rock, Electronica, Symphonics, and maybe a little lava!"
Brothers, Matt and Jason Tardy of Buckfield, ME are the men who make up AudioBody. With over 15 years of performing arts experience, they started the group in 2004 and have since released two albums, "Sound Motion and Theater" in 2004 and "Do Something Difficult" in 2007.
"AudioBody provides a unique and exciting experience for the public, bringing music alive with their 'Blue Man Group meets the Smothers Brothers' show," says Chris Delamater, Vice President of Marketing for Northeast Bank.
"Their electronic jumpsuits, drum triggers, and other crazy antics create lots of laughs and genuine entertainment for everyone in the crowd."
Replacing the traditional idea of a guitar-and-drums band with something unique, AudioBody uses synthesizers and computers to generate unique rhythms and tones, most-notably with their use of musical jumpsuits as instruments, also known as "wearable music."
AudioBody has passed the first round of auditions for "America's Got Talent" and may be appearing on the show later this year.
The Northeast Bank Tour also will have performances of AudioBody at the Orion Performing Arts Center in Topsham on July 18th, The Great Falls Performing Arts Center in Auburn on September 12 and at Bingham Auditorium at Gould Academy on October 17th. The full schedule of tour dates and locations as well the ability to purchase tickets online can be found on AudioBody's website at http://www.audiobody.com. Tickets can also be purchased at any of Northeast Bank's eleven branch locations.
Listen and see AudioBody on its YouTube Channel.
About Northeast Bank
Northeast Bank, a leader in delivering one-stop shopping for financial services, is headquartered in Lewiston, Maine and is a wholly-owned subsidiary of Northeast Bancorp (NASDAQ: NBN). The Company has approximately $619 million in assets as of December 31, 2008 and derives its income from a combination of traditional banking services and non-traditional financial products and services including insurance and investments; operating eleven traditional bank branches, fourteen insurance offices and three investment centers that serve seven counties in Maine and two in New Hampshire. Information regarding Northeast Bank can be found on its website at http://www.northeastbank.com or by contacting 1-800-284-5989. Check out Northeast bank on Facebook, LinkedIn, and on Twitter: @northeast_bank.
###