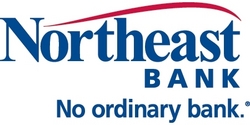 Small businesses are the backbone of our communities
Lewiston, Maine (Vocus) July 10, 2009
While there's been a lot of discussion nationally about a commercial credit crunch, access to capital at Northeast Bank has never been easier for qualifying businesses, thanks to a recent federal-agency decision.
Northeast Bank announced today that the U.S. Small Business Administration (SBA), which guarantees qualified commercial loans for approved banks, has extended Northeast Bank's Preferred Lender Program status in Maine and New Hampshire for an additional two years.
The SBA Preferred Lender Program (PLP) streamlines the loan approval process for U.S. small businesses. Under this program, the SBA delegates loan approval, closing, servicing, and liquidation authority to experienced lenders. A key factor that the SBA considers when designating a Preferred Lender or extending that status at an existing bank partner is production volume, taking into account how many customers are using SBA loan programs. Other factors include the bank's handling of the documentation and servicing of the loans, as well as the financial strength of the institution.
"Small businesses are the backbone of our communities," said Jim Delamater, President and CEO of Northeast Bank. "Providing capital is vital, and that is why there was never a credit crunch here, as proven by the good work that our team did to extend our Preferred Lender status."
"We've experienced record loan growth in the past six months and it is our goal to continue to grow our commercial loan portfolio and provide SBA financing whenever possible. This strategy especially makes sense now that the SBA has new programs in place that require little to no fees, thanks in part to the legislation that was signed into law back in February to stimulate the economy."
About Northeast Bank
Northeast Bank, a leader in delivering one-stop shopping for financial services, is headquartered in Lewiston, Maine and is a wholly-owned subsidiary of Northeast Bancorp (NASDAQ: NBN). The Company has approximately $607 million in assets as of March 31, 2009 and derives its income from a combination of traditional banking services and non-traditional financial products and services including insurance and investments; operating eleven traditional bank branches, fourteen insurance offices and three investment centers that serve seven counties in Maine and two in New Hampshire. Information regarding Northeast Bank can be found on its website at http://www.northeastbank.com or by contacting 1-800-284-5989.
Fan NEB on Facebook - Join the NEB group on LinkedIn - Follow NEB on Twitter: @northeast_bank - Friend NEB on MySpace - Check out the NEB YouTube Channel
Contact:
Chris Delamater, Director of Marketing
207-786-3245 ext. 3548
# # #