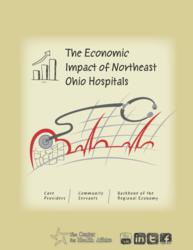 The report really underscores the importance of the activities going on throughout the region to leverage this asset to grow and attract even more industry and more jobs for Northeast Ohioans.
Cleveland, Ohio (PRWEB) July 05, 2012
More than 168,000 area jobs and $10 billion in household income are attributable to the hospitals located in Northeast Ohio. This is according to the latest Northeast Ohio hospital economic impact report, released this month by The Center for Health Affairs, quantifying the activity generated by hospitals in Cuyahoga and surrounding counties. Download the full report.
Those statistics include the more than 81,000 people hospitals directly employed and the almost 4,000 people employed through hospital construction projects in 2010. In addition to those direct employees, more than 83,000 jobs are created through secondary impact. Secondary impact is defined as the jobs created as a result of those hospital and construction employees spending their paychecks at local businesses.
"It comes as no surprise that area hospitals play a tremendous role in the local economy," says Bill Ryan, president and chief executive officer of The Center for Health Affairs. "But the report really underscores the importance of the activities going on throughout the region to leverage this asset to grow and attract even more industry and more jobs for Northeast Ohioans."
Health Care as a Regional Export:
Not only do Northeast Ohio hospitals create thousands of jobs, they also draw dollars into the region from around the state and nation. A substantial proportion of the services provided in Northeast Ohio hospitals are for patients who live outside of the region but come to the area for care, making health care an export for Northeast Ohio. This region is one of a small number of areas around the country that do so to a significant degree. Total Northeast Ohio hospital revenues in 2010 were about $9.4 billion. Of these 16 percent – about $1.5 billion – were for care provided to patients residing outside of the region.
Tax Revenues:
Government services receive support from the activities of hospitals as well. As income taxes are paid by hospital employees and as other taxes are paid when these employees spend their paychecks, revenues accrue to federal, state and local governments. In 2010, the state of Ohio saw about $341 million in employee income taxes and about $237 million in retail sales taxes as a result of hospital employee spending.
Community Benefit:
Along with economic activity, jobs and tax revenues, area hospitals also provide a significant amount of value to the region through a variety of community benefit activities. In 2010, they provided a total community benefit of $1.24 billion. This includes more than $225 million in free care, more than $422 million in subsidized care, and more than $590 million in other activities, including community health improvement services, health professions education, and research.
Health Services Outpace Other Industries:
Health care is continuing to be a shining star for the region. From 2000 to 2009, employment for all industries in Northeast Ohio shrank by 15 percent, while health services employment grew by 18 percent. During that same period, while payroll grew by only 6 percent across all industries, it grew by 58 percent for those working in health services.
The Center for Health Affairs is the leading advocate for Northeast Ohio hospitals, serving those organizations and others through a variety of advocacy and business management services. The Center also works to inform the public about issues that affect the delivery of health care. Formed by a visionary group of hospital leaders 96 years ago, The Center continues to operate on the principle that by working together hospitals can ensure the availability and accessibility of health care services. For more on The Center, go to http://www.chanet.org.