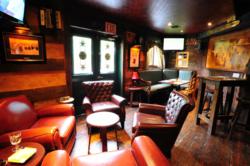 Montvale, NJ (PRWEB) October 06, 2012
The Porter House, a very popular steak house and cigar bar in Montvale, NJ, is having a Pig Roast this Sunday to kick off the NY Giants game which starts at 1pm EST. The Pig Roast is an annual event and one that offers the restaurant yet another chance to show off why they are so popular in the local area. The cuisine will consist of a full roasted pig served buffet style for a bargain price of only $10. While it lasts, they will also be serving this on pork buns which together has garnered them rave reviews among the press. Despite their popularity, what is not really known is the fact that they are a full fledged Northern New Jersey caterer, capable of providing amazing food for any event.
Team members of the Route 72 Systems social marketing team will be at the event taking pictures and video to help promote and further the restaurant's market exposure in the area.
"The food is always amazing at the restaurant and this will be the first year that I'll be attending the Pig Roast which I hear is great!", states Ed Viray, social media consultant with Route 72. While at the event, Viray will help the restaurant interact with patrons who are more involved with the social media revolution. Promoting the fact they have a catering business will also be one of the marketing team's goal.
Having been successful in the email data aggregation business for over 15 years, Route 72 Systems has the opportunity to be involved with many types of businesses that sometimes need speciality email marketing services like Auto Appender (http://autoappender.com/) or social media services such as for the Porter House. With strategies to overcome even the most challenging markets, social media is just another tool in their arsenal to get results for clients.