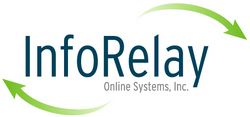 I'm proud to say that we're now an E-Verify participant; it's just one more way that we can reassure our clients that we are committed to the safety and security of their data and systems
Sterling, VA (Vocus) April 21, 2010
InfoRelay Online Systems, Inc., an IT solutions and connectivity provider, announced today that it has enrolled in the E-Verify program, a voluntary program offered by the U.S. Department of Homeland Security (DHS) to determine the employment eligibility of new hires.
Because InfoRelay caters to clientele in the public and private sectors, as well as government contractors and healthcare organizations, InfoRelay has always performed thorough background checks on all prospective employees. By enrolling in E-Verify, InfoRelay has taken one additional step in verifying the identity and employment eligibility of all new hires. InfoRelay has also increased eligibility for federal government contracts for colocation, consulting, and IP connectivity services since E-Verify is mandatory for some employers with federal contracts or subcontracts that contain the Federal Acquisition Regulation (FAR) E-Verify clause. Because of InfoRelay's large presence in Northern Virginia, InfoRelay is in close proximity to many federal agencies based out of Washington, DC.
Daniel O'Connor, Operations Manager for InfoRelay, indicated that due to the rapid level of growth experienced by InfoRelay in 2009 and Q1 2010, the company will be hiring aggressively during the second and third quarters of the year to keep up with demand for its services. "I'm proud to say that we're now an E-Verify participant; it's just one more way that we can reassure our clients that we are committed to the safety and security of their data and systems," stated O'Connor. "In addition to providing many of our clients with rack space and multi-homed Internet connectivity, we provide server management and data backups. These clients will now know that all staff members that work with their systems and data have undergone multiple checks to confirm their identity and their eligibility for employment," he added.
In addition to performing background checks and verifying new employees via E-Verify, key personnel at InfoRelay have been briefed on Health Insurance Portability and Accountability Act (HIPAA) rules pertaining to the protection of individually identifiable health information. Many of InfoRelay's facilities, including its Ashburn, VA (IAD1) and Reston, VA (IAD3) data centers, are SAS-70 Type II certified. The combination of SAS70-certified facilities, a strict employee vetting process, and staff familiar with HIPAA requirements provide InfoRelay with the ability to provide secure colocation services, Internet bandwidth, and IT support services to a wide range of organizations within both the public and private sectors.
About InfoRelay Online Systems, Inc.
Founded in 1995, InfoRelay Online Systems, Inc. delivers enterprise-level managed services to businesses of all sizes. With over 10 data center locations worldwide, InfoRelay serves over 100,000 clients through its main product lines and subsidiaries. InfoRelay's unrivaled network is powered by multiple Cisco routers, and boasts over 100 gigabits-per-second of network capacity. InfoRelay's staff and management combine decades of diverse experience in the fields of Information Technology, Storage, and Networking with today's best enterprise-level hardware and software technologies. Each enterprise-level client is assigned a dedicated Technical Account Manager and support team, allowing InfoRelay to further differentiate itself from the competition by providing a comprehensive, personalized support infrastructure. By demonstrating unparalleled levels of responsiveness, concern, and overall service, InfoRelay establishes a unique trusting relationship with each client, allowing InfoRelay to act as a 24x7x365 extension of its clients' IT departments. This partnership allows InfoRelay's clients to focus on their core businesses, rather than on the day-to-day concerns of hosting infrastructure. For more information, please visit http://www.inforelay.com, or call (703) 485-4600.
###