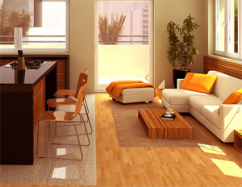 I do most of the jobs myself and am answerable to homeowners. Even after the job is done, I call back promptly.
Ashburn, VA (PRWEB) May 18, 2011
Srinivas Akula, owner of Redwood Construction based in Ashburn, Virginia, says he prides himself on offering personal, hometown service with integrity while at the same time staying on top of current news in terms of what's available in building materials and new products.
"Clients feel comfortable with me being local," Srinivas explains. "I do most of the jobs myself and am answerable to homeowners. Even after the job is done, I call back promptly. I offer more personal service than most other companies."
Srinivas may be a hometown Virginian, enjoying fishing, working in his yard, and playing soccer with his kid, but he also stays on top of what's new and available. He loves being able to offer new ideas to homeowners as to what they can do with their space and then watching it take shape.
For example, basements can have a variety of uses – becoming ideal spaces for game rooms, wine cellars, and wet bars. Long lasting, maintenance-free decks from EverGrain, AZEK, and TimberTech, are only a few choices Redwood Construction offers. Even woods like teak and bamboo can make unique and durable decking material.
"I offer my clients more than they might find locally or in stores," says Srinivas. "If it's priced reasonably, a lot of my clients like the idea of getting something they don't see in stores or in their neighbor's homes. I keep myself informed as to what's coming on the market and initiate getting samples of what's new. I offer choices as to what they can get for their money."
Add to that, Redwood Construction is competitively priced, offers longer warranties than most companies, and pays attention to design details, and the company is quickly building a loyal client base.
Redwood Construction offers full house remodeling, basement finishing, decks, patios, and additions and is offering a 10% discount on all patio and decking projects for the spring. To learn more, visit them on the web at http://www.redwoodnova.com or via their profile on BuildZoom.
About Redwood Construction
Redwood Construction offers a wide range of remodeling services including kitchen remodeling, room additions, bathroom remodels, sunrooms, finished basements, home theaters, decks, patios, and flooring. The company was founded in 2006.
###