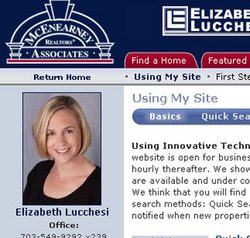 Alexandria, VA (PRWEB) September 8, 2009
Team Lizluke.com specializes in residential sales in Fairfax, Arlington and Alexandria, Virginia. Homes for sale in this part of Northern VA are lower than they've been in years and interest rates are also low: The realtor team of Elizabeth Lucchesi is responding by expanding service with newest team member, real estate assistant Jillian Keck. A graduate of James Madison University with a degree in finance and deep real estate industry roots out of Richmond, VA, Jillian joins Elizabeth Lucchesi, Kat Ochs, Miran Perkins and Dawn Middlestead as the team of LizLuke.com.
Expanding the Lizluke.com team is intended to better serve existing clients and offer "top-shelf, second-to-none" service to new customers looking at Arlington, Fairfax and Alexandria, Virginia, homes now for sale.
"A recession is terrible thing to waste," says LizLuke.com owner Elizabeth Lucchesi, explaining that more millionaires are made in down markets than in up markets at a ratio of 8 to 1.
Lucchesi further explains, "What does this mean in terms of getting involved in Northern VA real estate or preserving the assets that you have? Interest rates are low, prices have been compressed, and inventory is starting to decline. Do it now if you have the cash: The numbers can work if you want to be a landlord or a buy-up buyer."
Lucchesi also encourages those who are thinking about investing in Northern Virginia homes for sale to improve their space now while contractors and resources are willing to offer competitive packages and pricing. And for those who provide contractor and other services, Lucchesi says, "Become a trusted resource for the referral partners you have."
To make the most of the "referral partner" opportunity, Elizabeth and her team will host a business mixer breakfast on September 23 at 8:00 a.m. at La Strada Restaurant in Alexandria's Del Ray neighborhood. Referral partners will have the opportunity to outline how they are uniquely qualified to serve as referral partners of Elizabeth Lucchesi and her team.
Information about this mixer breakfast, Fairfax, Arlington and Alexandria, Virginia, homes for sale, and Team LizLuke.com is available at the Team's McEnearney Associates Realtors website.
About Elizabeth Lucchesi:
"Who you spend your time with is who you become. What you choose is what you get." This quote from Nido Qubein encapsulates the philosophy behind Team Lizluke.com, based in the city of Alexandria, VA. According to Lucchesi, Qubein is a self-made man who immigrated here from Greece and is now the president of High Point University in North Carolina.
Lucchesi, a member of the National Association of Realtors, Virginia Association of Realtors and the Northern Virginia Association of Realtors, believes we have a phenomenal opportunity today to make a difference in people's lives and in the lives of our friends and families; that the choices we make are directly correlated to the person we become; and that life does not happen by circumstance. She leads the group of Northern VA real estate professionals, Team LizLuke.com, and is passionate about helping her clients make deliberate choices about housing based on facts and trends, not hunches, emotions or instinct.
###