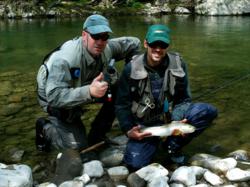 Offering a chance to get on the river and fly fish without subjecting everyone to a fishing trip is a great compromise in a world where not everyone likes to travel exclusively to fish.
Santander, Cantabria, Spain (PRWEB) January 19, 2012
Northern Exposure Spain provides custom tours in Northern Spain catering to client specific interests, now including fly fishing. Day outings with a world class fly fishing guide are now an option on Northern Exposure Spain tours of the Cantabria area of Green Spain.
Northern Exposure Spain has partnered with A Mosca Cantabria to offer guided fly fishing outings to clients as part of a unique travel experience. From April through October, clients can opt to spend a day fishing with Cantabria local, and world class fly fishing guide, Oscar Quevedo Iglesias. Oscar has over 20 years experience fishing area rivers and streams and holds over a dozen national and international fly fishing titles. Anglers can fish primarily for native brown trout with seasonal opportunities for other species. The clear waters of Northern Spain allow for a variety of fishing techniques, including sight casting, using dry flies and nymphs.
"It is exciting to team up with A Mosca Cantabria to expand our offering at Northern Exposure Spain. Giving fly fishermen an opportunity to learn new techniques from a champ and enjoy a relaxing day on the water is perfect for our varied groups. Combining our unique tour options with the special interest of fly fisherman opens a new dimension for travelers that find it hard to blend fishing and cultural travel. A new facet for our company, allowing fishermen and their non-fishing counterparts to travel together without having to go on a 'fishing' trip," stated Charles Schwalbe, Northern Exposure Spain CEO (Chief Experience Officer).
"I am thrilled to be part of the mix of what Northern Exposure Spain offers its clients," said A Mosca Cantabria owner and guide, Oscar Quevedo Iglesias. "Northern Spain has so much to offer, on and off the river. It´s exciting to work together providing clients with unique fishing and travel experiences in our hidden section of Green Spain. I look forward to a great fishing season in 2012 and am anxious to get on the water with Northern Exposure Spain clients."
Interested travelers and fishermen should contact Charles Schwalbe directly to plan your personalized custom tour in Northern Spain. Visit the company website to learn more about a unique travel experience with Northern Exposure Spain.
About Northern Exposure Spain
Northern Exposure Spain provides unique, custom tours in Northern Spain. Based in Cantabria, at the heart of Green Spain, the company tailors tours to client preferences and interests, highlighting the history, cuisine, culture and natural beauty of the area.
###