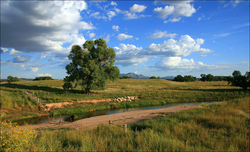 Prescott, AZ (PRWEB) February 16, 2010
2009 has been good to northern Arizona property developer Peter Gooding and his sales team. Despite the troubles with the real estate market all over the country, Peter has seen his Prescott, Arizona property sales consistently outperform the prior year. Lowering prices on parcels in combination with ramped up marketing efforts have created positive interest in the land offerings. This interest has not been in vain as the company has sold even more reduced priced parcels than in years prior.
"The growing interest in this land is not coincidental" stated Gooding. "As the economy becomes uncertain, those that can do something about it tend to make investments in things that aren't going to diminish - land is one of those things." Gooding and LV Ranch Estates have worked hard to make the ranch land as valuable as possible. Over the past year, LV Ranch Estates has added miles of underground, fiber optic cables allowing each home to have access to high speed internet. The roads and fences have been improved and each property now comes with pre-dug wells, adding to the value that the purchaser receives with their property.
Property buyers looking to invest in Arizona ranch property would be well advised to consider LV Ranch Estates. Each parcel is between 35 and 50 acres of unspoiled, northern Arizona wilderness. The infrastructure and amenities blend seamlessly with the surrounding landscape, allowing owners to live a rural lifestyle with big city amenities. With prices reduced by 20% in some cases, now is the time to invest in Arizona ranch properties.
About the company: LV Ranch Estates is a property developer in Prescott, Arizona. Their Prescott, Arizona real estate was developed with sustainability in mind, but with all of the amenities of a modern metropolitan area. The use of renewable resources such as solar and wind power generation or rain catching systems and well drilling are all planned in a way that minimize the human impact on the environment.
# # #