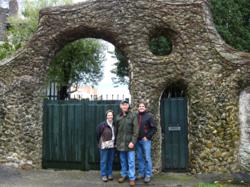 Following up on two gold medal Spanish Ibex hunts, one of them a species record, is a hard act to follow
Santander, Cantabria, Spain (PRWEB) April 25, 2012
Northern Exposure Spain provides custom tours in Northern Spain catering to client specific interests. Travelers planning a trip to Spain can now enjoy adding on a custom tour of the Cantabria area of Green Spain to enhance their travel experience, just as a hunting party from Texas did recently.
Northern Exposure Spain recently completed another successful tour of the Cantabria area of Northern Spain. The tour was an add-on for a hunting party whose primary reason for coming to Spain was to hunt Spanish Ibex in the mountains of central Spain. The Carson hunting party, a couple from Texas, wanted to take advantage of the long trip over to Spain by experiencing a bit more than just a hunting trip. They entrusted Northern Exposure Spain with providing them a memorable travel experience after their successful gold medal Spanish Ibex hunts.
Northern Exposure Spain customized an itinerary designed around personal preferences and specific interests of the clients. These included a desire to travel by train to Cantabria, a preference for accommodations in an historic hotel, discovering local cuisine and lesser known wines, enjoying unique historic sites and a love of the outdoors. Once again, Northern Exposure Spain provided a unique travel experience, which, for the Carsons, included highlights such as a meal at one of the local Michelin Star restaurants, described by them as "possibly the our best meal, ever," going to a Catholic mass on Palm Sunday in a 7th century cave church, spotting Iberian chamois in the Picos de Europa Mountains and staying in a 17th century mansion in the historic medieval town of Santillana del Mar.
"I have to say that our trip to Northern Spain was one of the best vacations we have ever been on. Charles's personal attention, knowledge and planning were outstanding. The fact that he spoke perfect Spanish and was able to translate for us everywhere we went was awesome. This was such a fun and stress free vacation," commented Ronda Carson after their tour. "Thank you Charles for making us feel like we were lifelong friends and showing us your beautiful country. It really shows that you love what you do."
A Northern Exposure Spain tour presents travelers with a different view of Spain, contrasting what most people consider typically Spanish. Northern Spain is different and always pleasantly surprising for those travelers that decide to explore this lesser known area of the country. Northern Exposure Spain provides clients with an in depth experience of this off the beaten path part of Spain that is impossible to reproduce without a lifetime of local knowledge.
"Following up on two gold medal Spanish Ibex hunts, one of them a species record, is a hard act to follow," stated Northern Exposure Spain Chief Experience Officer (CEO) Charles Schwalbe. "The pressure was definitely on for us, but thorough planning and really honing in on client preferences and interests made for yet another unique travel experience for our clients. Our personalized attention to detail and in depth local knowledge ensures our success. It also provides the ultimate reward for us at Northern Exposure Spain, client satisfaction."
Travelers can learn more about Northern Exposure Spain and designing a personalized custom tour in Northern Spain here, or contact Charles Schwalbe directly at 888-737-8146.
About Northern Exposure Spain
Northern Exposure Spain provides unique, custom tours in Northern Spain. Based in Cantabria, at the heart of Green Spain, the company tailors tours to client preferences and interests, highlighting the history, cuisine, culture and natural beauty of this lesser known but surprisingly rewarding area of Spain.