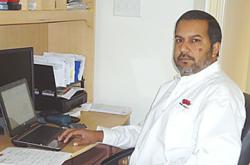 There is ample opportunity to create something for your kids, something for your own future. This is the land of opportunity.
Cincinnati, OH (Vocus/PRWEB) March 24, 2011
Quresh Amijee has launched his Fresh Coat Painters franchise to serve northern Houston, Sugar Land, Cypress, Tomball, The Woodlands, Humble, Pasadena and their surrounding Texas communities.
For Quresh and his wife, Tasneem, owning a business is just part of their vision of life in America. Now residents of Cypress, the couple moved to the Houston area seven years ago after receiving U.S. approval to emigrate from Tanzania, Africa, where they had operated an import-export business.
"Since then, I've been working to see what I would do in this country," Quresh said.
His jobs included all aspects of home improvement, he said, including remodeling, painting and tile work. Ultimately, he came to see business ownership as a viable option and franchise ownership as a practical method to achieve that goal. After exploring various franchise options, he decided to buy a Fresh Coat territory after he and his financial adviser visited the Corporate Offices in Cincinnati.
"I was convinced immediately," he said. "And, my adviser agreed. Fresh Coat has a working plan that helps to ensure success. And the leadership showed they wanted us to succeed."
Tasneem, who will be assisting with the business, agreed.
"Quresh has been business-minded from the start," she said. "He's studied and learned. This seems like the right business at the right time."
He spent 8 to 12 hours at work each day, she said, noting that did not leave much time for her or their three children, ages 8, 5 and 17 months. The Amijees, like several other Fresh Coat owners, appreciated the low start-up costs and the ability "to be with family" by starting the business from their home.
"There is ample opportunity to create something for your kids, something for your own future," Quresh said. "This is the land of opportunity."
He said having lived and worked in the United States for these last seven years has allowed him to learn much about the differences between business concepts here and in his native country. By being part of a larger organization, he expects to expand that knowledge.
"Quresh's strategic thinking, determination and work ethic are traits similar to those shown by many of our owners," said Bernie Brozek, Fresh Coat president. "One of our paramount goals is to help our franchisees succeed by complementing their inherent abilities and offering them professional support through our marketing, training and resource materials."
Among those materials are several client assistance programs, such as a 24/7 call center, Paint Now-Pay Later 12-months-same-as-cash financing, Automatic Touch-Up for businesses, and fund-raising opportunities for charities. Because Fresh Coat hires only employees, never subcontractors, its business model also offers stability to painters in a high-demand industry with too many fly-by-night operators.
"They like that I'm a franchisee because it's a boost to their confidence," Quresh said. "They know that a franchise might last whereas another operation might be gone in a year."
Clients also benefit, he said, because they're dealing with professionals who handle different aspects of the business from consultation and scheduling to job completion and follow-up.
"I don't want to be painting," Quresh said. "My painters do the painting while I promote the business and get more clients. That way each client gets my attention first, then gets my painters' attention, and ultimately gets more attention from each of us."
By being a business owner, he said he also will have the time to be more involved in his community, develop connections and make a contribution – something he feels is important. In Tanzania, for example, he was active in the Lions Club and its mission to support volunteerism within the community to meet humanitarian needs, encourage peace and promote international understanding.
His vision for his company links back to his ideal of life in America – to be "successful, comfortable, able to provide a good education for the kids, and give back to the community."
To learn more about Fresh Coat of Houston or to schedule a free, on-site quote for residential or commercial projects in and around the north Houston area, call Amijee at 832-497-1185 or visit http://www.freshcoatnorthhouston.com. Founded in 2004 in Cincinnati, Ohio, Fresh Coat Painters provides services for residential, commercial and governmental customers in more than 100 major cities across the United States and Canada. Fresh Coat is part of the International Franchise Association, the Small Business Association's Franchise Registry, VetFran and Minority Fran. For more information, call 866-708-9355 or visit http://www.freshcoatpainters.com.
# # #