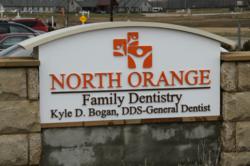 "All too often, I see patients with serious dental issues that could have been completely prevented if they had been offered routine annual care." - Dr. Kyle Bogan
Delaware, OH (PRWEB) February 13, 2013
The North Orange Family Dentistry practice is now open and welcoming new patients to their family-friendly and state-of-the art dental office. Dr. Kyle Bogan provides preventive family dentistry services for residents of the quickly growing Lewis Center and Delaware area of Ohio, encouraging patients of all ages to take an active role in their oral healthcare.
"We're excited to be offering both high-tech and caring dentistry. North Orange Family Dentistry is an office where families can receive quality dental care in a comfortable environment. Our goal is to provide healthy, beautiful smiles for the entire family," says Dr. Bogan.
Dr. Bogan, who was educated at The Ohio State University, has been working as a general dentist since 2008. When planning the North Orange Family Dentistry office, Dr. Bogan says he wanted families to be able to relax and be comfortable in an inviting space. "I believe in affordable, compassionate, quality dental care provided in a comfortable, state-of-the art office," says Bogan.
What started out as an exciting vision on paper has now become a reality; the new practice features state-of-the-art technology including digital patient records, digital x-rays, intraoral cameras and TVs in each treatment room for patient viewing.
The practice offers a wide variety of dental treatments ansd solutions, including routine care like checkups, preventive and periodontal cleanings, and sealants. Also provided is more in depth care including fillings, root canals, extractions, bridges, dentures and dental implants. Cosmetic dental options include teeth whitening and veneers, and Invisalign braces are available for both adults and teens. When asked " What should patients know about you?" Dr. Bogan replies, "First, they should know that I am trustworthy and honest; that I always have the patients' best interest in mind."
As an incentive for new patients, North Orange Family Dentistry is currently offering $50 Target gift cards with any adult new patient exam, necessary x-rays and recommended cleaning. Also available are 20% discounts in many cases for patients without insurance, taking some of the sting out of the cost of basic dental care. "Preventive care is the best way to save money on dental bills," says Dr. Bogan. "All too often, I see patients with serious dental issues that could have been completely prevented if they had been offered routine annual care."
For more information about North Orange Family Dentistry, or to schedule your new patient visit, call the office at 740-548-1800.