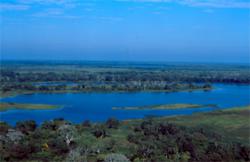 A unique local travel experience awaits visitors to this region, a wilderness destination bursting with life and color.
New York, NY (PRWEB) October 28, 2011
Travel to the outstanding ecotourism destination of North Pantanal, Brazil, can now be booked through the newest Web portal of whl.travel, the global online travel network powered by local travel experts.
Spread across south-central Brazil in the state of Mato Grasso and covering an area larger than the island of Great Britain, the Pantanal is the world's largest wetland. North Pantanal comprises a delicate ecosystem that benefits from dual seasons of flooding and droughts. The intense rains that deluge the region annually give way to a dry season during which grasslands thrive and support over 70 species of mammals.
Through whl.travel, unique local travel experiences in Brazil await visitors to this region, a wilderness destination bursting with life and color. The lack of tall foliage provides unequalled views of the natural scenery, and tiny islands dotted throughout the wetlands are ideal places to observe wildlife in its native habitat. Jaguars, parrots, Cayman alligators, and flocks of storks and herons are just some of the species commonly seen on a tour of the wetlands, a way for travelers to reconnect with nature while discovering the rich biodiversity of North Pantanal.
A wide range of hotels bookable through whl.travel's North Pantanal website facilitates overnight stays in the midst of one of Brazil's foremost ecological wonders. The hosts at many lodges understand the potential impact that increased tourism can have in the region and have endeavored to structure their Pantanal hotels and accommodations around sustainable practices. Pousada Rio Claro, for example, partners with local craftsmen and artisans, bridging the divide between local residents and guests by developing events, lectures and workshops centered on Pantanal culture.
As the whl.travel local travel connection in North Pantanal, José Namen fully understands the complexity of this unique conservation area. A Pantanal-born native and an activist working to shape responsible tourism in the region, he is no stranger to the process of integrating tourist infrastructure into nature's delicate balance. Namen and his company maintain a deep respect for the impressive fauna and landscapes of North Pantanal, as well as for the strong culture of local residents who live there.
"We are excited about our partnership with whl.travel because we share the same view that tourism should help to protect the environment and promote the local people and their culture through the creation of jobs and the injection of resources into the local economy," Namen said. "We are sure that whl.travel will help us in marketing the Pantanal to the global market as an important tourist destination, and that we'll succeed in achieving our goals."
Pantanal Norte joins an ever-growing list of successful whl.travel destinations geared to local travel in Brazil, including South Pantanal.
About whl.travel
whl.travel is a global online travel-booking network of local franchise operators leading the way in experiential and responsible travel. It is a wholly owned subsidiary of the WHL Group, the largest local-travel company in the world. Originally started in 2002 as a pilot project of the IFC (part of the World Bank Group), whl.travel was spun off as a private company in 2006 and has since grown into the WHL Group, a global franchise network of award-winning companies that help travelers find unique ways to experience a destination through local tourism professionals present in more than 100 countries. WHL Group companies empower local partners who have practice in experiential and mindful travel and a local's knack for identifying, explaining and sustaining the distinctive qualities of a place.
###