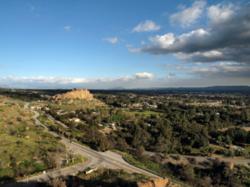 Northridge, Ca (PRWEB) August 18, 2012
Red Blue Realty honors Northridge as one of the best places to live in the San Fernando Valley for the reasons below. Over the course of this summer, Red Blue Realty received many inquiries regarding whether or not Northridge real estate is worthy of serious consideration. For most buyers, the simple answer is yes.
Northridge is a humble community with over one hundred homes available for purchase -- but is Northridge real estate worth it? Well, it depends on the needs of the buyer. Due to its diverse selection of homes, developed infrastructure, and educational opportunities, Northridge is a great place to work, live, and raise a family. Northridge is also worthy of consideration by real estate investors.
Home Selection
Northridge offers a wide selection of single-family homes, townhouses, and condos ranging in price from just under $200,000 to over $1.5 million.
While the median list pricing of the real estate is roughly $500,000, homes in Northridge usually sell for about $400,000. The northern, western, and eastern sides of Northridge tend to be more expensive than the southern side. Investors should consider Northridge because there are still many distressed Northridge homes for sale.
Infrastructure and Commerce
Over the years, Northridge has done a great job at developing its infrastructure. When compared to the surrounding areas, Northridge has well-maintained roads lined with trees, beautiful parks, and many thriving businesses.
When it comes to parks, the Northridge Recreation Center is great because it offers lighted baseball diamonds, basketball courts, soccer fields, and tennis courts, as well as a seasonal pool, a children's play area with picnic tables, and an air-conditioned indoor gym.
Northridge is also home to many restaurants, specialty shops, and stores. The Northridge Fashion Center, for example, is a large mall with an enormous directory that includes all of the staple stores that one would expect -- Macy's, JCPenny, and so on. Those who decide to purchase one of the many Northridge homes for sale can safely expect the day-to-day shopping essentials to be covered.
Education
Now this is where Northridge really shines -- education. With its wide selection of elementary, middle, and high schools, Northridge makes it easy to put a child through school. And once that child is ready for college, at the heart of the community is California State University, Northridge (CSUN).
CSUN is widely known and respected in southern California for its business and accounting programs. Since its inception in the 1950s, CSUN has essentially become the hub of Northridge. With roughly 36,000 students and more than 4,000 faculty and staff, CSUN is the source of economic vitality as well as the biggest employer in Northridge.
All in all, Northridge is a safe, well-maintained, and affordable community that covers all of the bases needed for raising a family. For those who are interested in buying, selling or learning more about property in Northridge, contact Christopher Rosiak at Red Blue Realty today for the perfect Northridge real estate agent!
Email: Contact@redbluerealty.com
Phone Number: 1-(855) 66-RBREALTY or 1-(855) 667-2732
Also, be sure to follow Red Blue Realty on Facebook for the best social real estate experience!