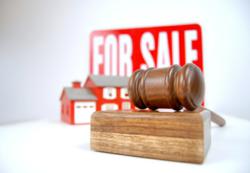 Red Blue Realty can help you avoid foreclosure
Northridge, Ca (PRWEB) September 16, 2012
For those with Northridge real estate, one of the worst items to receive from the mailbox is a "Notice of Default". But just because a mortgager receives this notice does not mean that their home will be foreclosed on. There are ways to avoid foreclosure.
Every day, people miss their mortgage payments for a wide variety of reasons -- a job loss, a medical emergency, a divorce, a death in the family, and so on. Regardless of the reason, there are many alternatives to foreclosure; to succeed, however, the mortgager must take the initiative to get back on track.
1) Communicate with the Lender
When attempting to avoid foreclosure, the first and most important step that a mortgager must take is to communicate with their lender.
Foreclosure is very expensive for all parties involved. Lenders do not want to add another foreclosed property to their portfolio of Northridge homes for sale. In fact, most lenders will actively work with the mortgager to avoid foreclosure, which can be very costly for them.
By communicating with the lender as soon as possible, a mortgager is able to assess all their options and make the right move. The worst mistake that a mortgager can make is to do nothing; the faster that the lines of communication are opened, the more likely that foreclosure can be avoided.
2) Forbearance
One option that mortgagers can consider is a mortgage forbearance agreement. This is an agreement between a lender and a mortgager in which the lender agrees not to foreclose on the mortgage and the borrower agrees to a plan to become current on their mortgage payments.
For many, a forbearance agreement is a great way to avoid adding one more foreclosed property to the inventory of Northridge homes for sale. It's worth noting, however, that this type of agreement usually works best for mortgagers with temporary financial problems.
3) Loan Modification
Those mortgagers who struggle with more severe financial issues should consider a loan modification. If, for example, a mortgager has an adjustable-rate loan, then their lender may consider temporarily locking in or changing the interest rate on the loan.
For those who have positive equity, another option to consider is refinancing. In some cases, a mortgager can use the equity established in their home to pay the missed mortgage payment. Sometimes it is even possible for the debt to be forgiven or cancelled, but this is rare.
Besides the above alternatives to foreclosure, there are other options to consider, such as short selling. For more information, contact Red Blue Realty today for the perfect Northridge real estate agent.
Website: http://www.redbluerealty.com
Email: Contact(at)redbluerealty(dot)com
Phone Number: 1 - (855) 66-RBREALTY or 1- (855) 667-2732
Get social with Red Blue Realty on Facebook and Twitter!