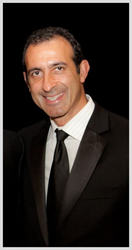 Northridge, CA (PRWEB) July 28, 2014
Top Northridge dentist, Dr. Farshid Ariz, is now offering a $100 coupon for new patients. Finding a new dentist can be an intimidating experience. Many people struggle with dental anxiety or dental issues that have gone untreated and worry about how they will connect with a new dental care provider. Dr. Ariz specializes in patients with special concerns and dental needs and works to ensure that each of his patients feels comfortable and right at home. This special coupon can help patients get the treatments they need for less of an initial investment.
About Dr. Farshid Ariz, Oral Surgeon Northridge
Northridge dentist Dr. Farshid Ariz is a graduate of Boston University's School of Dentistry. Two years after graduation, he earned his Certification of Advanced Graduate Studies in Periodontics. He has since held the title of Assistant Professor to Advanced Periodontics for the University of Southern California School of Dentistry, and he is a member of the American Academy of Periodontology, the American Academy of Osseointegration and the Medical Review Institute of America, Inc. Dr. Ariz provides his patients with exemplary care and an unparalleled attention to detail and offer such treatments as dental implants, periodontal treatments, root canal, crown lengthening and more.
About Dr. Shahdad Arami, Dental Implants Dentist Northridge
Dr. Shahdad Arami is a graduate of UCLA's School of Dentistry. During his residency, he concentrated on treating phobic and medically compromised patients. He is a member of the California Dental Association and the American Dental Association, and he has continued his education in various dental fields, including aesthetic and implant dentistry. He welcomes his patients with a warm, gentle manner and can calm even the most nervous of patients.
This coupon can be used towards a variety of treatments, but it cannot be combined with other offers. Some restrictions may apply. Patients can take advantage of one of many different treatments that are available, including tooth-colored fillings, dental crowns, orthodontic treatment or even dental implants. Northridge dentist Dr. Ariz and his associate Dr. Arami work closely with patients to identify their dental health care needs, understand their concerns and goals and create a treatment plan that works for them. Initial appointments may include comprehensive dental exams, X-rays and other diagnostics to identify any underlying dental conditions that could cause long-term problems if left untreated.