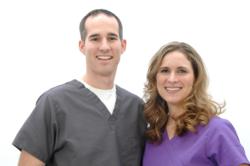 "Our goal is to offer both general and in-house specialty treatment for our patients, making North Royalton a single destination for all their dental care needs."
North Royalton, OH (PRWEB) June 27, 2013
Dr. Amberlee Taylor and Dr. Nathaniel M. Taylor are pleased to announce the opening of their joint practices in North Royalton, OH. Dr. Amberlee Taylor is heading up the children's dental practice, North Royalton Pediatric Dentistry, while Dr. Nathaniel Taylor is providing complete family dental services at North Royalton Family Dental.
This pairing of a family dental office and pediatric dental practice in the same location is designed to make getting excellent dental care for the whole family convenient and hassle free. Both doctors are seriously committed to the community they now call home, and have created a state-of-the-art facility where patient of all ages can experience the best in dental care.
Both doctors are the children of dentists, and also both graduated from the Case School of Dental Medicine. Pediatric dentist Dr. Amberlee Taylor spent her post graduate residency at the Rainbow Babies and Children's Hospital, where she discovered her passion for pediatric patients. "I wasn't sure how dentistry fit into my life at first, but suddenly, it all clicked," she remembers. "Whenever I worked on a child, I was putting my whole self into making sure they were comfortable and having fun - and I was having a great time! Being a kids' dentist in North Royalton is the perfect career for me."
Dr. Nathaniel Taylor knew he was destined for the dentist's stool from an early age, seeing it as a way to be hands on and help people on a daily basis. He has spent hours in continuing education, adding specialized knowledge and skills in the fields of endodontics, orthodontics, and implant dentistry. "My goal is to be the North Royalton dentist you can come to and receive all the treatment you need in one location," he says. "We are in-network for most providers, and I envision North Royalton Family Dental as being a single destination for patients requiring a wide range of dental care."
Both Dr. Taylors have been constantly active in their communities over the years, participating in events like the notable "Give Kids a Smile Day". The North Royalton dental practices are open now, and scheduling new patients. Limited-time Special promotions are available for both adults, children and those without dental insurance.
To schedule an appointment, please call North Royalton Pediatric Dentistry at 440-457-1222 or North Royalton Family Dental at 440-457-1221. Both practices are located at 6391 Royalton Road, North Royalton, OH 44133